Llibreria Finestres: a bookworm's haven in Barcelona expands
New 216 square meter site opposite original holds 12,000 new books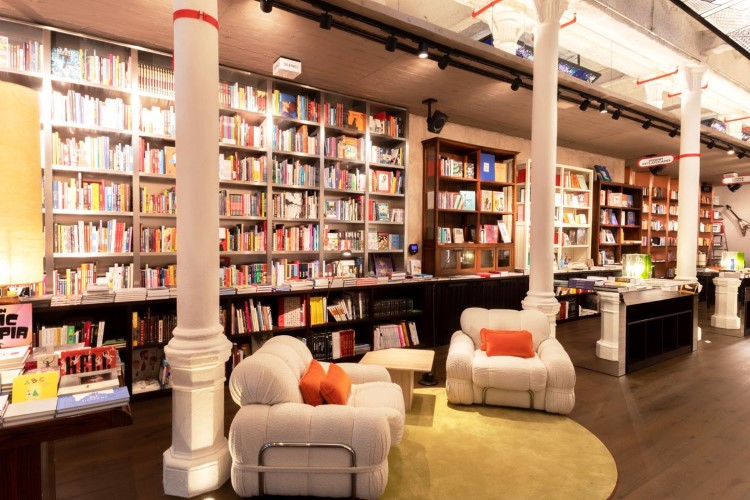 On Monday, Barcelona bookshop Llibreria Finestres opened its doors to a new store, opposite the original shop.
Although physically separated from the original by Carrer de la Diputació, in the heart of the city, the new shop is meant to act as an extension, rather than an independent outlet.
Finestres is not just a bookshop, but a reader's haven, complete with sofas, and even a terrace and cafe to encourage readers to contemplate some of the literary and non-literary titles on offer.
Bookseller Àurea Perelló's told Catalan News that one of the aims of the bookshop was to be "not just a place to buy, but above all a place for people to come, quietly have a browse at the books, pick one, then go to our reading areas," also describing it as "more than a bookshop," as it is a place of "meeting" and "discovery."
These books also come in a wide selection of languages aside from Catalan and Spanish, including English, French, Italian and German, as well as other Iberian tongues, such as Portuguese, Basque and Galician.
The new site across the road is located in the modernist Casa Garriga Nogués, identified as a site of cultural interest, known as Bé d'Interès Cultural in Catalan.
Despite being less than half the size of the original, the extension still holds 12,000 books primarily focused on the visual and artistic disciplines, such as music, art, comics, and design.
Beyond the selection of books and facilities, Finestres also hosts events "basically every day," according to Perelló. These can take the form of lectures and talks, book clubs or literary meetings.
Recently, the shop has also ventured into the world of prizes, as last week it awarded its inaugural €25,000 Catalan-language comic prize to Francesc Capdevila, a cartoonist who writes and illustrates under the pseudonym "Max" for his entry entitled 'Què'.
€10,000 was also awarded to author Marina Sáez, who received an honourable mention for 'Aiguagim'.
These awards, as well as others for narrative and essay writing in both Catalan and Spanish, are possible thanks to the Llibreria Finestres Foundation, which aims to use creative and essay writing as a tool to work towards social equality.