'Mediterráneo': movie tells true story of Open Arms saving lives at sea
Marcel Barrena's film about the humanitarian crisis in the Mediterranean is released in cinemas on Friday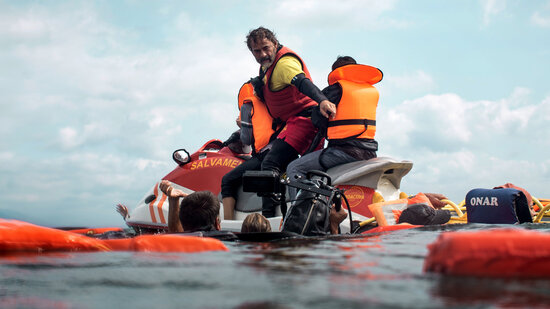 In 2015, the image of three-year-old Alan Kurdi's lifeless body washed up on a Mediterranean beach made headlines around the world, and prompted two Catalan lifeguards to travel to the Greek island of Lesbos, determined to do everything possible to prevent such needless tragedies happening again.
For Òscar Camps and Gerard Canals, this was the seed from which sprung Proactiva Open Arms, an NGO dedicated to search and rescue at sea and the subject of the Marcel Barrena's latest film, Mediterráneo: The Law of the Sea, released in cinemas on Friday, October 1.
Open Arms does not have a "political position, but a human one," that "deserves to be explained," the director told the Catalan News Agency (ACN) at the film's premiere as part of the San Sebastián International Film Festival in the Basque Country.
Barrena says Mediterráneo has been a "particularly difficult" film to make, a project lasting five years, involving countless trips to Lesbos, an "intense but wonderful" time with Open Arms, and visits to refugee camps, listening to people's stories. "To me the film puts things in perspective," he says.
A believer of cinema as a "weapon to be used", the Barcelona-born director hopes his movie will bring attention and add something to the rescue work that Open Arms do.
"Not a political film"
Barrena is keen to point out that this is "not a political film." He says it shows a conflict that must be "resolved through politics," but "does not propose a solution."
In fact, the director draws on one of Òscar Camps' mottos, namely that, according to the law of the sea, you are obliged to save someone who is shipwrecked, and if you do not, you're committing a crime. "If anyone doubts this they have to rethink what it means to be human," Barrena says.
Open Arms
During the pandemic, the migrant rescue charity joined the Covid-19 effort in Catalan care homes, but has since returned to the waves, including saving 250 people one week in November 2020.
In 2019, Open Arms' rescue boat was refused permission to enter Italian waters for 19 days with 147 asylum seekers on board; the then Italian interior minister Matteo Salvini will face trial in Palermo, Sicily, on October 23 for his role in the decisions made at that time - the procedure was expected to be held from September 15 but was postponed.
Medal of Honor
The head of Open Arms, Òscar Camps, was awarded the Catalan parliament's Medal of Honor in September 2019, along with the captain of the Sea Watch 3 rescue ship, Carola Rackete.