Going to Primavera Sound? Here's a practical guide on everything you need to know
What you can and can't bring into Parc del Fòrum, how to get home each night, and where to activate your digital ticket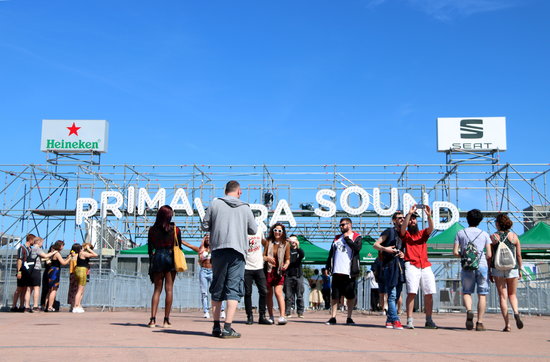 Primavera Sound is back for its special 20th-anniversary edition. A bumper two-week double-header festival awaits us for what organizers promise will be the best Primavera Sound ever.
Huge worldwide names from a wide variety of genres such as Tame Impala, Dua Lipa, Megan Thee Stallion, Tyler, The Creator, The Strokes, Gorillaz, and many more will perform for thousands of raving fans at Parc del Fòrum in Barcelona.
Some will perform on Weekend 1 (June 2 to June 4), on Weekend 2 (June 9 to June 11), or in the Primavera a la Ciutat daytime program (June 1 to June 12). Timetables for some of the days may have recently changed due to new bands included in the line-up or late cancelations including The Strokes.
Below you can find a practical guide of important bits of information to help you best enjoy Primavera Sound, whether it's one day, one weekend, or the whole marathon event you're looking forward to.
Primavera Sound: the essentials
First thing's first though, there's a new ticketing system in place this year, fully digital for the first time. Download the application on your phone AccessTicket and verify your account. This is a must, as you can only enter the venue with the app installed on your device and with your ticket activated before your arrival.
Next, the absolute essentials: bring comfortable footwear, a jacket for nighttime, ear plugs if you use them when things get loud, put sun cream on before you leave your accommodation and wear a hat or cap to protect yourself from the sun.
Stay hydrated. It will probably be very warm, you'll probably be dancing, and there's probably a good chance you'll be drinking alcohol too, if you're going. Remember to keep hydrated throughout the festival. There are some public water fountains at the Parc del Fòrum site and all drinks are served in reusable plastic cups.
Study the festival map before you arrive and have an idea of where your favourite artists are playing when. It would easily take 15 minutes or longer to walk between the most distant points of the site, the side-by-side Pull & Bear and Estrella Damm stages and the Dice stage on the beach at Primavera Bits.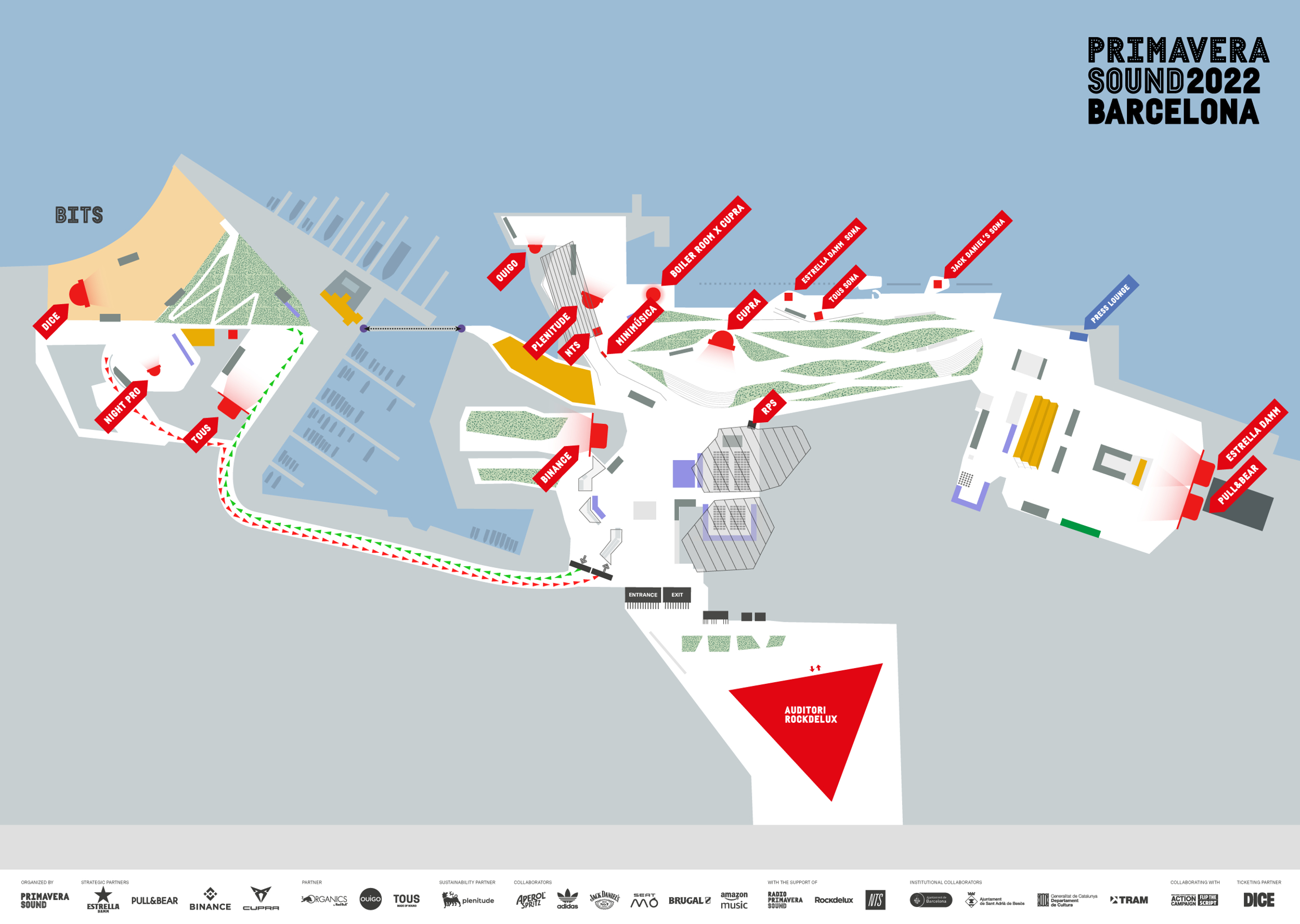 Getting to Parc del Fòrum and back
Parc del Fòrum, the site where Primavera Sound is taking place, is very accessible from Barcelona city center. It can be reached by metro, bus, or even tram.
The closest metro station is El Maresme | Fòrum, which is on the yellow L4 line and is located only five minutes away from the site. Across the city, the metro runs between 5 am and 12 midnight from Sunday to Thursday, from 5 am to 2 am on Fridays, and runs for 24 hours on Saturday.
The bus system in Barcelona works almost 24 hours every day, but is separated into two categories, the 'regular' bus lines, which operate from 6 am to 11.15 pm every day, and the night bus ("nit bus" in Catalan) which goes from 11 pm to 6 am.
Night bus lines that go by Parc del Fòrum: N6 (click here to see the N6 night bus route) and N7 (click here to see the N7 night bus route). Regular bus lines serving Parc del Fòrum: 7, H16, and V33.
There will also be a free shuttle bus running from outside the venue to the central square Plaça Catalunya without stops every night of the festival, between midnight and 5 am on the Thursdays, 2 am to 5 am on Fridays, and 4 am to 7 am on the Saturdays.
If you want to leave the site and come back at some stage, it's possible to do this but only until 3 am. If you leave before this time you must validate your entry code on the AccessTicket application to be able to return to the site on the same day.
Bicing, Barcelona's city bike share facility, also runs 24 hours a day.
What can I bring into the festival?
There's plenty you can bring into Parc del Fòrum with you. In fact, festival organizers recommend some things, including a hat or baseball cap to protect you from the sun, sun cream, a jacket for when the sun goes down, and a bottle of water not exceeding 33cl but without the cap.
Food can also be brought in, as well as bags not exceeding 24 litres of volume, small umbrellas, and recyclable cups.
There's also a list of prohibited items that can't be brought in, including reflex cameras, selfie sticks, scooters, motorcycle helmets, sprays and aerosols, and thermal water bottles.
There will also be a cloakroom near the entrance of the site which you can avail of at an additional cost unspecified on Primavera Sound's website.
Food, drinks, and payment
Food and drinks can be purchased inside the venue at many points dotted throughout the site. At the festival bars, you can pay in cash, card, or by using any credit associated with your ticket for having kept it through the pandemic years.
There are also various areas for food stalls across the site. It should be noted that not all food stalls will accept payment by card.
Other general information about the site
First aid teams will be present at Parc del Fòrum in the event that any visitor needs medical attention. You can also speak with any Primavera Sound staff member who can call a first aid team if you don't see them.
There are many toilet facilities throughout the festival site, all indicated on the map, which can be found inside the programme upon arrival or else in pdf format from the Primavera Sound website.
Lost something during the festival? Information points throughout Parc del Fòrum will also serve as lost and found desks.
There are also facilities available for handicapped people and people with special needs at all of the stages across the site. They, along with one companion, will be able to enjoy the concerts from specific viewing platforms.
Disabled and special needs people will also be able to get an extra wristband which allows for speedy access across the Parc del Fòrum site.