EU court top lawyer sides with rapper Valtònyc over his extradition request
Advocate general says Spain cannot use a criminal code that was only enforced after singer's alleged offences took place in his European arrest warrant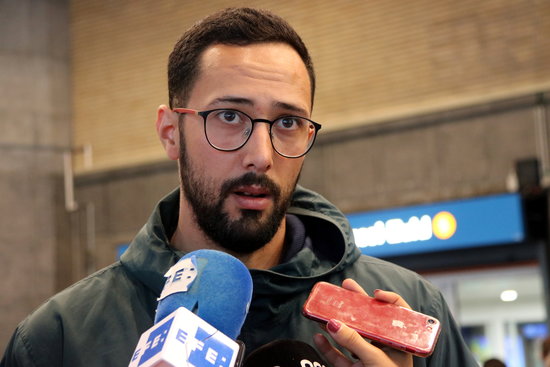 The European Court of Justice's advocate general has given his support to Mallorcan rapper Valtònyc over his extradition request.
On Tuesday morning, Luxembourg's top lawyer presented his conclusions on the case, pointing out that Spain cannot use a criminal code that was only enforced after singer's alleged offenses took place in his European arrest warrant.
Through Spain's 2012 criminal code, Valtònyc was convicted to three and a half years in prison for slander, defaming the crown, and glorifying terrorism in some of his lyrics.
Although his judicial process began in 2012, when he went into exile in 2018, Spain issued an extradition request against him using the 2015 update of the criminal code, which has a tougher stance on terrorism crimes.
Ghent court to have final say
Luxembourg judges' ruling will have an impact on the case, but it is a regional Belgian court that is in charge of Valtònyc's extradition case.
The Ghent judges originally rejected Spain's extradition request on September 17, 2018, arguing that it is a freedom of speech case, but the Belgian prosecutor appealed the ruling, which led the court to ask the ECJ for advice.
In the September 2019 hearing in Luxembourg, the European Commission agreed with Valtònyc's lawyers that the arrest warrant for the singer issued by Spain was unlawful, which after the hearing led the musician to say he was "optimistic" that his extradition will be refused.
The Ghent court's decision on the appeal could still be taken to another court. Valtònyc's extradition case in Belgium has been ongoing for the past year and a half.
Valtònyc welcomes top EU lawyer's opinion
The Mallorcan rapper has welcomed the European Court of Justice's advocate general's opinion that Spain should not invoke the 2015 reformed criminal code to justify his extradition as the events in question date back to 2012.
According to Valtònyc, "When Spain plays away from home it cannot do what it wants and interpret law however it finds convenient."
While recognizing that the lawyer's opinion is not binding, he seemed confident that the Ghent judge in charge of reviewing his case would disregard the extradition order if the advocate general's views are heeded, as happens 80% of the time.
The musician also commented on the European Court of Human Rights' recent decision to dismiss his case. Despite speculation that he would perhaps try to appeal his case in Spain again before presenting the Strasbourg court with a second appeal, Valtònyc stated that this channel had been "exhausted."