Rapper Valtònyc's extradition decision delayed due to legal query
Judge in Belgium wants European Court of Justice to clarify which Spanish law applies to artist's conviction –next hearing January 22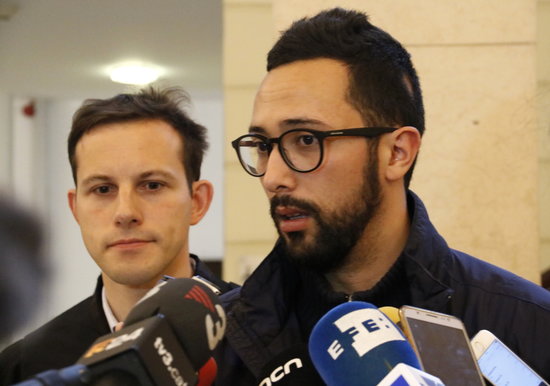 The rapper Valtònyc's extradition case in Belgium might go on for longer than expected. The appeals court in Ghent has delayed making a decision while it waits for the European Court of Justice to rule on which Spanish antiterrorism law applies in his case.
Valtònyc's lawyer, Simon Bekaert, told the press on Tuesday that the appeals court is seeking to clarify whether a law from 2012 or another "more severe" one passed in 2015 applies to the European arrest warrant issued for the artist.
Bekaert also said that even if the 2015 legislation is taken into account, it does not necessarily mean his client will be extradited to Spain.
The appeals court chose to ask the court in Luxembourg to rule on Valtònyc's legal situation rather making a final decision on the extradition request, which was originally expected at Tuesday's hearing.
The case has now been delayed until January 22, 2019, but Valtònyc's lawyers claim it is "unlikely" that the Luxembourg court will have had its say by that date.
On September 17, a court in Ghent rejected Spain's request to extradite the singer, arguing that it is a freedom of speech case, but the Belgian prosecutor filed an appeal that was due to be discussed on Tuesday.
This drew criticism of Belgium's very judiciary system by Spain's foreign minister Josep Borrell who claimed "there have always been problems" regards extradition cases.
Three and a half years over song lyrics
The rapper, born in Mallorca, was sentenced to three and a half years in prison last spring after being found guilty of glorifying terrorism, slander, and defamation of the crown in some of his songs' lyrics.
One day before the deadline given to him to enter jail, the hip hop artist tweeted that he "would not make it easy" for the Spanish authorities to incarcerate him. "Disobeying is legitimate and obligatory against a fascist state," he wrote. Soon afterwards, in May, it was reported he had left Spain.
On July 5, Belgium granted the artist conditional release while waiting for a final decision on his case, which is yet to come.
In parallel to the procedure in Ghent, Valtònyc has also appealed his conviction in Spain in the European Court of Human Rights.