Spain demands proof of vaccination or negative test from UK travelers from Friday
Entry requirements removed from visitors from all regions of Germany, Croatia, Estonia, Hungary, Lithuania, Luxembourg and Poland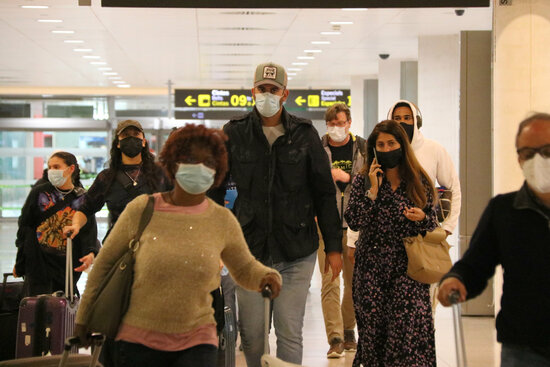 Travelers entering Spain from the United Kingdom will have to show proof of vaccination or a negative PCR or antigen test from Friday, July 2.
The Spanish government has moved to tighten entry requirements for British visitors due to their concerns that "the qualitative [Covid-19] data - specifically those relating to the presence of virus variants - were not considered favorable."
The measure, published in Spain's official gazette on Tuesday, applies until July 31, but could be amended before that date.
Meanwhile, as of Monday, several other European countries and regions have been removed from the "at-risk" list, meaning Covid-19 entry requirements are no longer required on arrival to Spain.
Visitors from all of Germany, Croatia, Estonia, Hungary, Lithuania, Luxembourg and Poland can now enter freely, as well as visitors from an increased number of regions in Belgium, Denmark, Slovenia, France, Greece, Italy, The Netherlands and Sweden.
The changes come just a few days after Spain removed several non-EU countries from its list of Covid-19 "at-risk" countries, including the United States.
Arrivals from at-risk areas, which still include most countries worldwide, must provide a document that either shows:
The traveller has been fully vaccinated against Covid-19 at least 14 days prior to arrival in Spain
The visitor has a negative result from a diagnostic test, within 48 hours prior to arrival in Spain (NAAT (nucleic acid amplification test, e.g. RT-PCR, RT-LAMP, TMA) / RAT (rapid antigen test)), with a negative result
The person has recovered from Covid-19, after the disease has passed, provided that more than 11 days have elapsed since the first positive NAAT test was performed. This will be valid for up to 180 days thereafter
For full, regularly updated details on requirements to enter Spain, go to: https://spth.gob.es/
Tougher requirements are in place for people wanting to enter Spain from India, Brazil or South Africa.
In the case of India, all passengers must quarantine themselves for ten days upon arrival, or for the entirety of their stay in the case that it's shorter than this period. In addition, they must provide negative test results before boarding, as well as test negative in the airport upon arrival.
For travelers coming from Brazil and South Africa, only citizens or residents of Spain can enter the country, while also following the same criteria as passengers from India.
The full list of countries deemed at risk is as follows:
EU/EEA
Belgium (except for the region of Vlaams Gewest)
Cyprus
Denmark (except for the regions of Midtjylland, Sjælland and Syddanmark)
Slovenia (except for the region of Vzhodna Slovenija)
France (except for the regions of Bourgogne-Franche-Comté, Brittany, Centre-Val de Loire, Corsica, Grand Est, Hauts-de-France, Martinique, Mayotte, Normandy, Nouvelle-Aquitaine, Occitania, Pays de la Loire and Provence-Alpes-Côte d'Azur)
Greece (except for the regions of Anatoliki Makedonia-Thrakim, Dytiki Ellada, Ionia Nisia, Ipeiros, Kentriki Makedonia, Kriti, Notio Aigaio, Peloponnisos, Sterea Ellada, Thessalia and Voreio Aigaio)
Ireland
Italy (except for the regions of Abruzzo, Campania, Emilia-Romagna, Friuli Venezia Giulia, Lazio, Liguria, Lombardy, Marche, Molise, Piedmont, Bolzano/Bozen, Trento, Apulia, Sardinia, Tuscany, Umbria, Aosta Valley and Veneto)
Latvia
Liechtenstein
Norway (except for the regions of Innlandet, Møre og Romsdal, Nordland, Troms og Finnmark, Trøndelag, Vestfold og Telemark, Vestland and Viken)
The Netherlands (except for the regions of Friesland and Groningen)
Portugal (except for Madeira)
Sweden (except for the regions of Mellersta Norrland and Stockholm)
All countries outside EU/EEA except for:
Albania
Australia
China
South Korea
US
Israel
Japan
Lebanon
New Zealand
North Macedonia
Rwanda
Serbia
Singapore
Thailand
Hong Kong
Macau
Taiwan