In Catalonia over Christmas? Find out how to survive this atypical holiday season
Have a look at our guide to restrictions and a few local traditions to get by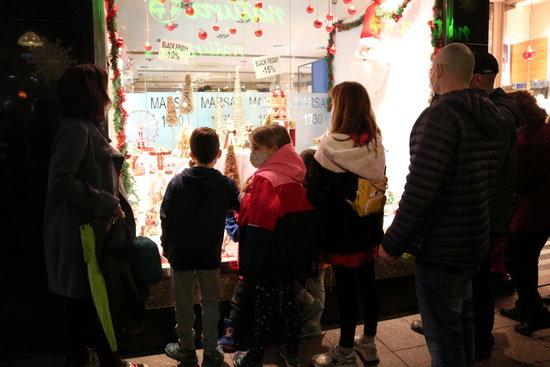 This year, for reasons that no longer require mentioning, has been one of mass disappointment. And to make things worse, many people will not be able to spend the upcoming holiday season with friends and family – some for health and safety reasons, others for a slew of canceled flights and other logistical nightmares.
If you happen to be one of those who will be spending the holidays, perhaps for the first time, in Catalonia this year around, take a look at our Catalan News guide to everything you need to know including the slightly different restrictions from December 24 to January 6 as part of Civil Protection's 'Christmas Plan', as well as some local traditions to try to make the season as enjoyable as possible given the adverse circumstances.
Restrictions
- Gatherings: Usually only up to 6 people are allowed to meet up, but on key dates over the holiday period, that is to say, December 24, 25, 26, and 31 as well as January 1, 5, and 6 this number, which includes children, will be increased to 10.
Authorities advise people to only get together with members of one other household at a time, and in no case may they attend gatherings with members of more than two households during this period.
- Curfew: On Christmas Eve and New Year's Eve, the curfew will be delayed to 1 am rather than 10 pm, as has been the case since October 25. On January 5, which is the eve of Three Kings' Day or Epiphany, people will have until 11 pm to get back home.
- Mobility: Spain has banned travel between regions from December 23 to January 6 except to visit relatives.
Travel within Catalonia will be permitted between December 23 and January 6 except for the two counties on lockdown, La Cerdanya and El Ripollès.
People residing abroad will be allowed to enter the country but will have to provide a negative PCR test upon arrival if traveling from a region where Covid-19 rates remain high.
Only Spanish citizens and residents will be allowed on flights from the UK.
- Bars and restaurants: On December 24, 25, 26, and 31, as well as January 1, bars and restaurants will be able to open with up to six people per table as opposed to four, which is currently the case.
Although indoor dining areas will be open, authorities recommend sitting outside when possible.
As of December 21, seating areas at bars and restaurants are only allowed to open from 7:30 to 9:30 am and from 1 to 3:30 pm.
- Care homes: Residents will be allowed to temporarily stay with relatives, especially on December 24, 25, 26, and 31, as well as January 1, 5, and 6, as long as the public health situation does not take a turn for the worse. Likewise, relatives will be able to visit care home residents, and in both cases, they are advised to take extra care the week prior to spending time with their high-risk family members.
Information about all other coronavirus measures in place can be found here.
Local traditions
Being stuck in Catalonia, far from friends, family, and your usual holiday traditions because of the pandemic, can feel kind of lonely but here are some Catalan Christmas customs you can learn about to try to make the most of this odd festive period.
- Whoever said laughter is the best medicine was definitely onto something. Indeed, what better way to forget about our less than ideal circumstances than with humor Catalonia's penchant for scatological – yes, you read that correctly – Christmas traditions? Catalonia is home to caganers, defecating figurines of anyone from peasants to celebrities that are placed in nativity scenes, as well as the caga tió, a log children beat with a stick while singing a song asking it to poop presents.
- Once the shock of Catalonia's fixation with excrements wears off, you may be happy to find there are other, perhaps more conventional, seasonal events to enjoy. Most major cities and towns will have outdoor Christmas markets, for example, such as the Santa Llúcia fair outside of the Barcelona cathedral or Girona's Plaça Independencia market.
- If humor and other outdoor distractions don't work, 'tis also the season for overindulgence. Stock up on sweet treats including torrons or neules and drink plenty of cava, Catalonia's sparkling wine.