First UK passengers arrive in Barcelona without health checks
Tourists happy with new measures making it "easier" to travel without negative PCRs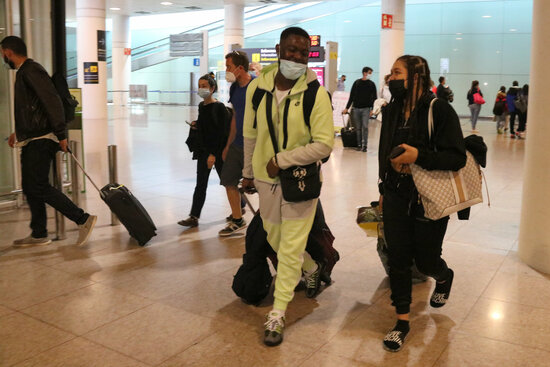 This Monday saw the first passengers from the United Kingdom arrive at Barcelona airport who did not need to provide a negative PCR test to enter the country.
After Spain lifted all limitations and health checks on arrivals from the UK last week, coming into effect on Monday, tourists can now arrive without the need to be tested prior to flying nor will they need to do mandatory quarantine upon arrival.
Two flights from London landed mid Monday morning, bringing hundreds of passengers to the Catalan capital who generally celebrated the relaxation of the measures.
"I'm grateful. It's easier to travel like this," said one British passenger amid great media expectation at the airport.
While it is no longer necessary to enter the country with a negative PCR, many travellers brought one anyway, either "for safety", out of not knowing about the rule change, or because the announcement of the exemption came on Friday when they had already gone for their test.
"Yes, yes, I took the test anyway," said one British tourist who was delighted to be in Barcelona and be able to "drink beer and enjoy the beach and the sun."
Other passengers flew to El Prat precisely because they wanted to take advantage of the relaxation of controls. "I come to visit friends and family, and it's really easier to travel if you don't need to have passed a test," said another passenger who said they were relieved about not having to pay over £60 for the PCR test.
Spain, however, is not on the UK's 'green list' of countries, but rather it is considered an 'amber' country, meaning Brits will be required to quarantine for 10 days once they return.
These travellers are also required to take a Covid-19 test before they return, and another two tests while in self-isolation on arrival in the UK (on or before day 2 and on or after day 8), in addition to completing a passenger locator form.
Before the tourist industry's disastrous 2020, in 2019 the UK was the second country of origin of tourists in Catalonia, preceded by France and followed by the United States.
Some 2.2 million Britons visited that year, accounting for 11.6% of the 19 million tourists Catalonia greeted in 2019.