Catalonia to restore free mobility from Monday
Government plans to lift the county-level lockdown as part of a broader plan to ease Covid-19 restrictions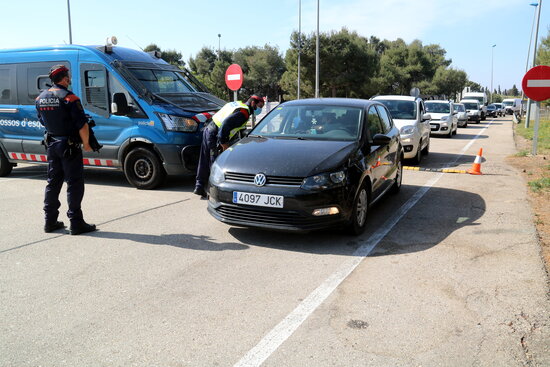 The Catalan government plans to lift the county lockdown and restore free mobility throughout Catalonia from Monday.
The decision comes as coronavirus indicators suggest the fourth wave of the pandemic has been effectively contained, and authorities will pursue a de-escalation plan to help an ailing economy.
Catalan authorities also plan to allow bars and restaurants located inside of shopping malls to reopen until 5 pm, just like the rest of bars.
With Spain ruling out an extension to the state of alarm, which is due to end on May 9, six months after it came into effect, the curfew will too come to an end after months of restricted mobility at night.
However, Catalan government officials have raised concerns that should a new spike in contagion occur, regional authorities will no longer have the power to pass emergency measures to restrict fundamental rights, such as the freedom of movement or assembly.
Since last fall, mobility limitations have ranged from strict municipal lockdowns to more permissive measures during the Christmas holiday. There were always exceptions, however, such as work-related travel, health emergencies, or taking care of dependant people, among others.
The most ambitious action to restore free mobility came on March 15, with free travel allowed as long as people stayed within their social bubbles, but the county lockdown was reintroduced less than a month later amid worries of surging hospitalizations.
Some restrictions lifted
This week, authorities confirmed that mobility restrictions would be lifted as of Monday, April 26, allowing people to travel freely throughout Catalonia once again.
In a press conference on Thursday, the health minister Alba Vergés announced other de-escalation measures, including the restoration of in-person classes for pre-university exam-year school students ('Batxillerat' courses) and vocational training courses ('Cicles Formatius').
Other eased restrictions include the reopening of restaurants in malls — from 7:30 am to 5 pm like the rest of such businesses —, the increase of capacity in sports and religious events from 30% to 50%, the end of the restriction to 800 m² in the area allowed for stores to open and also the reopening of children's play areas.
The rest of restrictions, such as the curfew, face masks, and closure of Catalan borders, remain in operation.