10-person cap on gatherings and 12:30 am limit on events and businesses in force
Restrictions announced on Monday and approved by court are in place throughout Catalonia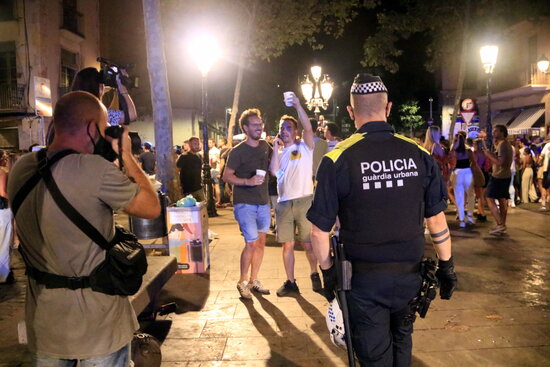 The 10-person cap on gatherings across Catalonia came into force on Thursday as soon as it was officially published in the official gazette (DOGC) in the early morning.
Announced on Monday, this measure approved by the High Court on Wednesday is not the only one that is introduced: all businesses have to close and events have to end by 12:30 am.
Local authorities are also advised to close off all public places where crowds tend to gather from 12:30 am to 6 am, such as parks and beaches – something that caused a stir among some mayors, who have asked for more "clarity" and have requested a full-fledged curfew.
Other measures include the ban on dancing on dancefloors, and the 12.30 am opening time limit for nightclubs and sports venues including gyms.
Check out all the new restrictions introduced to fight the fifth wave of Covid-19 in this link.
Government asks for curfew
President Aragonès chaired an extraordinary Covid-19 coordination meeting on Wednesday from 5 pm, in which the decision to ask for the court for permission to reinstate a curfew in Barcelona and 157 other municipalities was made. If approved, it will be in place in these cities and towns from 1 am to 6 am.
Vice President Jordi Puigneró, presidency minister Laura Vilagrà, interior minister Joan Ignasi Elena, health minister Josep Maria Argimon and the cabinet spokesperson, Patrícia Plaja, were also in attendance.
Aragonès made an official statement at 7:30 pm to announce the outcome of the meeting.