10 Covid ICU patients under 30 as incidence rate continues to soar among younger age groups
Number of cases per 100,000 inhabitants ages 20 to 29 leaps from 300 to 3,200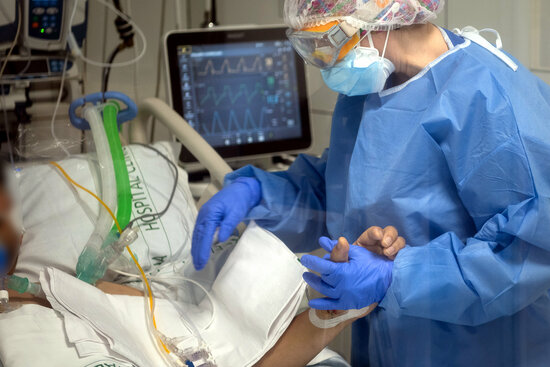 Younger ages groups account for the highest number of Covid-19 cases of the fifth wave.
The latest figures published on Wednesday show that the spread among this segment of the population continues to soar.
The incidence rate over 14 days – that is, the number of people who tested positive for the virus per 100,000 inhabitants – for the 20 to 29 age group was 290 on June 26, when it began to significantly increase, and in only two weeks, it leaped to 3,201 on July 10, according to the latest data available.
All age ranges experienced increases over this period, but at different rates, with those between 10 and 19 being the second most affected range, with a rate skyrocketing from 253 to 1,908.
Those in their thirties are the third group with the highest incidence rate, at 1,376 on July 10 – the indicator was at 167 on June 26.
The remaining age ranges are less affected by the current wave of the pandemic, with children in their first decade of life hitting 428, those in their forties at 564, people in their fifties at 288 and individuals in their sixties at 274. The age range 70 to 79 has the lowest incidence rate, at 99, a bit lower than the 80 to 89 range (121) and those who are 90 and more (124).
The latest incidence rate for those in their twenties is the highest of any age group throughout the entire pandemic, while the average stands at 979.20, also surpassing the peaks of the four previous waves.
Vaccinations began with the older age groups, and 80% of people over 50 now have at least one dose. Those between 16 and 49 are experiencing different vaccination paces, as between 17% and 75% of them have first doses, with older groups experiencing a more advanced rollout.
Covid ICU patients almost double
The latest figures also show an increase in hospitalizations – although not as high as during the previous waves – and in patients requiring ICU care.
Indeed, the number of people in ICUs has almost doubled in the past two weeks, with 219 people on Tuesday, up from 115 on July 1.
Ten of them are under 30 – eight in the 20-29 age range – with those in their sixties accounting for the highest share of Covid ICU beds, with 60.
47 people in their forties require intensive care, while there are 38 patients between the ages of 30 and 39 and 28 in their fifties.