Jailed Catalan leaders provisionally keep day-leave permits while court hears appeal
Judge dismisses prosecutor's request to preemptively revoke prison privileges for six pro-independence politicians and activists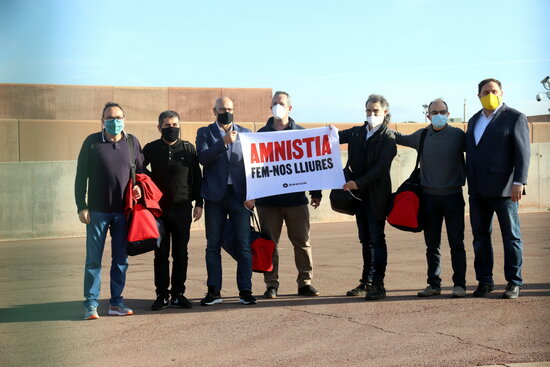 Catalonia's jailed independence leaders will provisionally keep their day-leave and weekend permits while a penitentiary court decides whether they should be stripped of such privileges.
The court rejected on Wednesday the public prosecutor's request that six politicians and activists serving a prison sentence for attempting to break away from Spain in 2017 should preemptively see their prison privileges revoked, pending a final ruling. The same decision was made on Tuesday for another two jailed leaders.
On Friday, the remaining leader, former interior minister Quim Forn, was also allowed to keep his day-leave permits while awaiting a final decision.
The leaders of the 2017 push to separate from Spain were granted the low category status as inmates barely a month ago, coinciding with the first day of campaigning for the Catalan election, and they were allowed to take part in political rallies.
A day after the election was held on February 14, prosecutors requested their privileges be removed.
The issue could end up in Spain's Supreme Court, and if the prosecutor's request is upheld, it would be the second time in less than three months that the nine leaders have been stripped of their prison privileges shortly after receiving them.
With prison terms ranging from 9 to 13 years for the crime of sedition, the nine politicians and activists were sentenced for holding a referendum in defiance of Spanish authorities and attempting to create an independent republic in the fall of 2017.