Unemployment hits half a million in Catalonia
Women, service workers, and young people most affected by pandemic economic downturn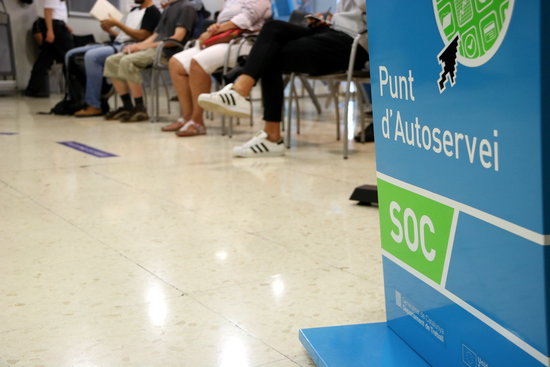 The number of unemployed people in Catalonia has now reached 508,081, according to data released by the Spanish Minstry of Labour and Social Economy on Tuesday.
Women represented 54% of those without work, and out of the 10,470 who lost their jobs in the past month, 85% were service sector staff.
Young people have also been disproportionately impacted, with Spain registering the highest youth unemployment rate in the EU, experiencing a 1.62% drop from December.
The grim figures mean that, 114,399 less Catalans are in work than in January 2021, that is 29.02% more than the same period the year before.
In total, this shows a monthly growth in unemployment of 2.1%, which is the second highest throughout Spain, only being surpassed by the southern region of Andalusia.
In one month, 36,770 more people were no longer being registered as workers, thus benefitting from social security, a drop of 1.09% compared to December, with an overall yearly decrease of 2.13%.
However, these figures do not include workers who are currently temporarily laid off due to the pandemic and benefiting from the government's subsidy scheme (ERTO). Throughout Spain, 739,000 people are in this situation, 35,000 more than last month.
Spain wide figures are slightly less sharp, with the growth from December to January being 1.9%, and the difference between this year and last at 21.8%, equating to an increase of 76,216 people without work.
The Ministry argued that a fall in employment is to be expected in the first month of the year, with January 2021 displaying the fourth smallest increase in unemployment since the 2008 economic crisis.