8K resolution screens and immersive experiences at ISE audiovisual fair
Transparent OLED displays open new possibilities of interaction at world's largest trade show of sector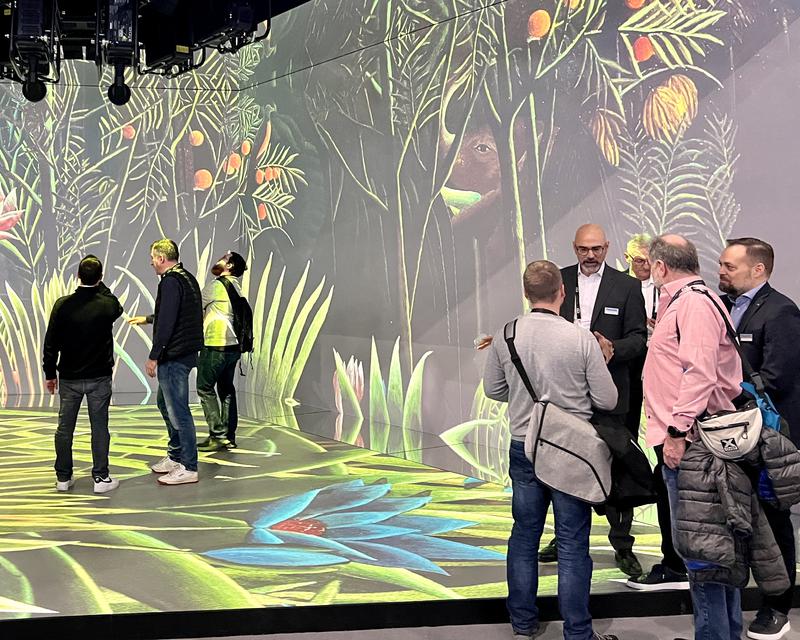 Attending the Integrated Systems Europe (ISE) audiovisual fair in Barcelona feels like going to buy a TV for your house, if you were 100 feet tall and had 20 square meters of wall space to dedicate to your home entertainment system.
Here at the world's largest trade show in the sector, you can choose from hundreds, even thousands, of displays in all sorts of different sizes.
"It is a very powerful fair," one journalist says in the press room, and he isn't wrong. This is the first full-scale version of the fair beind held in Barcelona since they moved out of Amsterdam, with 68,000 attendees registered at the time they opened doors on Tuesday morning.
Indeed, ISE's managing director, Mike Blackman, said on Tuesday that he is confident the final figure will surpass the last edition in Amsterdam, in 2020, when 52,000 people attended the event that was held in mid-February as Covid-19 was becoming a global concern.
The all-time record for ISE was recorded in 2019, when 81,268 gathered in the Dutch capital.
In 2021, the event was held in the Catalan capital last year, but in a much reduced capacity due to pandemic restrictions at the time.
This year, over 1,000 exhibitors are showcasing their products, including screens, more screens, and even more screens, and for those who believe a TV screen is not enough: projectors and LED displays of several meters in height and width.
One of the most breathtaking is LG's 272" MicroLED 8K screen. I have never seen a TV this big and with this resolution in my life, and if this is the future of home television, I need to start making space in my apartment.
Something that LG's Europe head of sales for LED, Borja Janariz, addressed during an interview with Catalan News.
"This is a multipurpose product that can be installed in any company, any reception, and any corporate area," he said before adding, "this display can be used in a residential house, obviously not this size because it is too big, but on a smaller scale, you have it in 163 inches."
For those wondering how much this new product may cost: "it is a really expensive product, but it depends on the size," Janariz said but do not worry as "wealthy guys can afford it, as it is nothing different than a regular high-end projector."
One thing is for sure, ISE is a very colorful and vivid fair. Once you think you cannot be more impressed by technology on display, you find some of the world's leading manufacturers showcasing transparent OLED displays.
These allow you to watch the TV as well as what is going on behind the TV itself. One of the most striking examples of where this technology could be used is in hotel rooms or even restaurants, where owners could have a virtual fishbowl.
ISE is about experiences and how to make the impossible possible. Several companies are presenting their latest 360-degree projections, showing them off in three-meter tall rooms where visitors are surrounded by painter Hieronymus Bosch's masterpiece 'The Garden of Earthly Delights.'
Technology exhibited at ISE could be part of everyone's future, as there are several stands focused on the Internet of Things and how it can make people's lives easier.
Other elements of the trade show focus on the broadcasting industry. Some companies have created cameras that pair with LED screens to generate new background images on, for example, television studios, where there are no backgrounds, such as in moments when presenters want to move to another spot. The background changes according to the movement, opening endless opportunities for directors and TVs to have a life-size scene without moving from a studio.
73 Catalan companies at ISE
And seizing the opportunity has also been part of why 73 Catalan companies have moved their operations to ISE these days.
One of them is Marvut Technologies, which is focused on interchanging holograms technology with interactive technology, making holograms adapt to people's needs.
"We are launching a fan-style hologram with two LED lights turning at 600rpm, and we can combine these holograms with the size we want," Diego Fernández, CEO and co-founder of Marvut Technologies, said to this media outlet.
"We have achieved to integrate this technology with interactive technology so that imagination is the limit," he added.
One of their most recent projects is a real-size hologram figure of Lluís Domènech i Montaner, a Catalan modernism art nouveau architect, well known for the Hospital Sant Pau hospital near Sagrada Família unfinished basilica.
ISE is open from Tuesday to Friday in six of the eight pavilions of the Fira Gran Via congress hall, with Samsung and LG taking up the largest exhibition space with 1,700 and 1,100 square meters, respectively.
The trade show's managing director, Mike Blackman, added the perspective of how far the event has grown since its 2004 debut – these two largest stands of Samsung and LG occupy as much space this week as the entire fair did back then.
Over 70 Catalan companies
ISE has 73 Catalan businesses presenting their products. These represent up to 63% of Spain's representation and demonstrate a 7% increase compared to last year's figures.
The Catalan government is opening its 'Catalunya Media City' stand with an immersive experience where attendees travel across three interconnected virtual scenarios: space, the sky, and the sea.
In Catalonia, there are 3,600 companies from the audiovisual industry employing over 31,000 people and with an economic impact of €6.7 billion. Worldwide, it is a €265 billion sector.
€400m boost to Barcelona
ISE will boost the Barcelona economy by around €400m, higher than initially forecast, Blackman said in an interview with the Catalan News Agency (ACN).
Blackman said ISE "anticipates something between €280m and €450m, probably closer to €400m," for the 2023 edition of the fair. This boost could be higher than Barcelona's other major trade fair, the Mobile World Congress (MWC), which also takes place in February.
Much of the financial impact of the congress comes through spending on hotels and restaurants, and through creating temporary jobs, directly as part of the trade fair and outside of it, Blackman explained, while acknowledging that the figures are based on some "guesstimates."
Future plans
Looking to the future, he hopes the fair will remain in the Catalan capital beyond 2025, when the current contract is due to expire.
"When we moved [from Amsterdam to Barcelona], we looked for a venue that could accommodate us now and give us the future space to grow long term, so we wouldn't have to keep moving."
"If it becomes too small at Gran Via we've got Montjuïc as well," he said, referring to Fira de Barcelona's two venues. "I think Barcelona can accommodate us for a long time."