Housing and mobility top topics in final Barcelona mayor bidders' TV debate
Tension between local government partners and blame game for street cleaning and public safety situation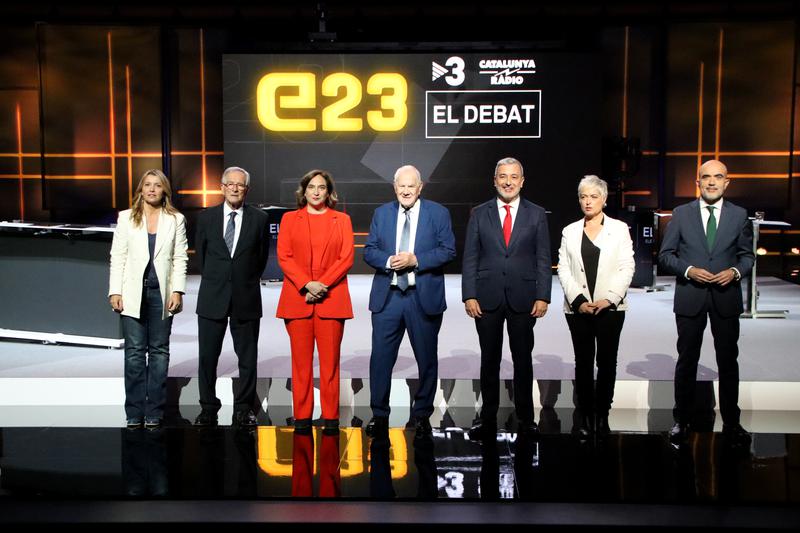 Housing and mobility were the top topics in the final Barcelona mayoral candidates TV debate, offered by public broadcasters TV3 and Catalunya Ràdio on Tuesday evening.
The current hike in rents, speculation and the public transport network were talking points that led to clashes among parties, especially the two local government partners, mayor Ada Colau for Barcelona en Comú and Jaume Collboni for the Socialists, and between most parties and the one leading the local council.
Colau proposed what she called Amsterdam Plan, that is, banning sales of flats between large property owners and/or the private equity funds, which she called them vulture funds.
She also accused her ally until now of taking eight years to support her in the need to regulate rents and in her lobbying to persuade the Spanish government to make a move.
Collboni countered the accusations welcoming the recent housing law passed in Spain, whose government is led by this party, and said looking into the situation will be one of his priorities if he becomes mayor.
Other candidates have blasted Colau's housing policies, emphasizing that during her stint in power, rents have skyrocketed.
"You have totally failed," said former mayor and current candidate Xavier Trias to her.
"You have had the opposed effect to what you were looking for with your housing policies," told her the People's Party's candidate, Daniel Sirera.
Public transport
The two-hour debate also covered mobility and public transport, which was another reason for a clash between the two parties leading the city.
Collboni proposed helping car owners to buy electric vehicles, extending the metro network, and helping the taxi sector – he did find consensus with Colau in the need to connect both tram networks along the city center.
Cycle lanes were the source of some tension, with Sirera criticizing some "nonsense" lanes recently built, and conservative Valents' candidate, Eva Parera, saying nowadays it is impossible to enter or exit the city, either by car or by public transport.
Pro-independence Esquerra's bidder, Ernest Maragall, pointed out that the frequent delays and failures of Rodalies commuter train services are the "elephant in the room."
Public safety and street cleaning
As for public safety, most candidates favored having more police in Barcelona.
Colau told Maragall that both of the institutions their parties lead – Esquerra is heading the Catalan government – have to continue cooperating to make sure there is enough police in the city.
The mayor has criticized the Socialist candidate for having quit the government shortly before the campaign, and Maragall also blasted Collboni for "telling lies" about the Catalan government's management of the police.
The programme also covered street cleaning, with Trias saying Barcelona is "very dirty."
He did not blame residents, but local authorities. Indeed, Colau explained that the council changed the company in charge of street cleaning, which led to some malfunctions, but added that it is already sorted.