MWC organizers expect up to 60,000 visitors and economic impact of €240m
Less than half of 2019 attendees anticipated but 95% of speeches to be done in person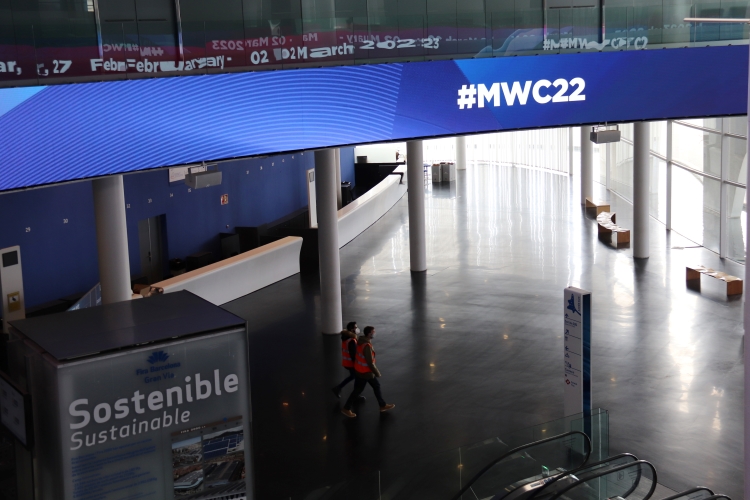 Barcelona will host the world's biggest event focused on mobile technology from February 28 to March 3. The Mobile World Congress (MWC) will return to the city after 2021's edition was reduced and delayed to the summer because of the Covid-19 pandemic.
The event will be held in Gran Via Fira congress hall occupying up to seven of the eight pavilions available. This year, organizers expect to welcome between 40,000 to 60,000 people, less than half of 2019, when 109,000 people visited MWC, as announced in a press conference on Thursday.
The last edition, held from June 28 to July 1, 2021, was the first one held since the coronavirus was first detected in Wuhan, China in 2019.
In early 2020, John Hoffman, the CEO of GSMA, the company that organizes the MWC, announced that the 2020 edition was canceled due to the outbreak of Covid-19. At the time, dozens of companies pulled out of the event because of concerns related to the virus.
Lower attendance also means a lower economic impact compared to previous years. In 2019, the congress left €471 million in Barcelona, but this year organizers anticipate a lower figure, reaching €240 million.
Three main themes
The 2022 MWC edition will focus on three main topics. As in recent years, visitors will learn more about the latest news on 5G technology, the Internet of Things (IoT) and Artificial Intelligence (AI).
However, organizers are preparing sites of the fair to focus on fintech -finance technology- and other online storing data options, such as the cloud.
MWC22 with in-person participation
Around 1,000 speakers will take part in one of the round tables or workshops organized during the MWC. Out of these, 95% of participants will be in Barcelona during the congress.
"More than 1,500 exhibitors from local as well as around the world would come and fill these halls," John Hoffman said during a press conference on Thursday in Barcelona Gran Via Fira.
"The whole ecosystem is again coming to MWC here in Barcelona," Hoffman said.
Some of the speakers will be China Mobile's president Yang Jie, or HTC's highest-directive Cher Wang, or Nokia's CEO and president Pekka Lundmark.
Covid-19 and future situation
With the new Covid-19 situation in Catalonia, where numbers are dropping, MWC organizers do not expect any problems regarding the virus.
There is only one thing that is more uncertain than the virus's future. What is the future of the Mobile World Congress in Barcelona?
"We are focused on MWC22 this year, and I am sure that we will get round to the future in some months to come," Hoffman said.