MWC21: Barcelona hosts biggest trade show since the pandemic
Mobile World Congress gets underway after it was cancelled last year due to Covid-19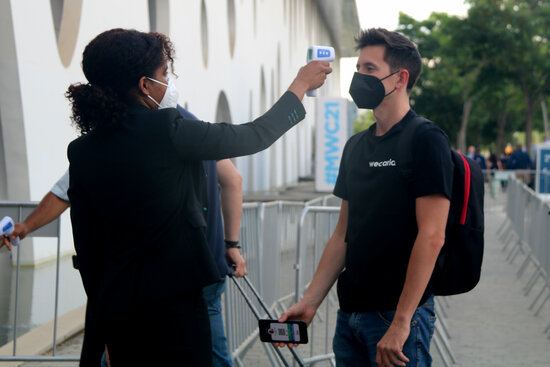 Barcelona's biggest trade show since the pandemic is on from Monday, the Mobile World Congress, back almost a year and a half after its last edition was canceled due to Covid-19 concerns.
Running until Thursday, between 30,000 and 50,000 visitors are expected to come to the Gran Via congress hall, with thousands of special discounted tickets of just €21 on offer for local attendees.
However, this is much lower than the more than 109,000 attendees that were present at the last edition before the pandemic.
Security measures were heightened and adapted to Covid protocols. Everyone in attendance here had to present a negative test to enter, with testing taking place here on site for €15.
There's the option for a paperless ID system using facial recognition technology to get into the congress a bit quicker. However, there were still quite large queues at the doors on the morning of the first day.
Around 300 exhibitors and 600 speakers will be taking part this week, with around 70% of the speeches done in person. Some of the most important topics that will feature at this year's MWC will be blockchain, robocalling & fraud, the mobile gender gap, and climate.
However, some multinational companies such as Samsung, Google, and Facebook pulled out of attending in-person this year due to the ongoing health crisis.