Catalonia to reflect on 'impact of technology' during Mobile Week
Fourth edition of event focused on how digital revolution will affect everyday life expanded to 16 cities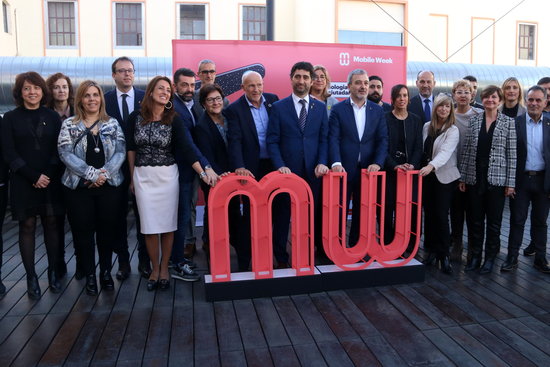 The fourth edition of Mobile Week kicks off on Thursday February 6, until March 1, with the focus on cybersecurity, artificial intelligence, and mobility.
Most of the events will be held in Barcelona, which will host workshops in 10 neighborhoods on the repercussions of the digital revolution on everyday life.
However, other places in Catalonia will not be left out, as there will be Mobile Week events taking place in a total of 16 cities around the country.
Last year saw places like Girona, Lleida, Reus, Igualada and Ribera d'Ebre host events for the first time, and this year will see more, such as Begues, Mataró, Sabadell, and Olot.
The organizers expect 18,000 people to take part in the 300 activities planned for the event described as "an open space for citizens to reflect on the impact of technology in society."
In Barcelona
Barcelona will host more than 150 of the Mobile Week events, which will be distributed in different city neighborhoods, between February 20 and March 1.
The talks for the event will take place in three main venues: CaixaBank's ImaginCafé, the Centre Cívil Cotxeres-Borrell, and Estrella Damm's Antiga Fàbrica.
Among those talking in Barcelona is founder of Institute of Next, Alfons Cornella; head of SEAT Urban Mobility, Diana Mesa; and expert in data management, Ander Orcasitas.
New this year is an interactive survey to find out the "connectivity levels" of citizens, while there will also be a day dedicated to parents and children called 'Family Day'.
As for the workshops around the city, they will deal with issues such as the use of social media, avoiding technology addiction, and how AI can change our everyday lives.
Around Catalonia
The Mobile Week activities planned for 15 other cities around Catalonia will take place between February 6 and 29.
Among the highlights is a hackathon in Mataró, which will see 60 university students looking for technological and business solutions related to the challenge of healthy ageing.
Meanwhile, in Igualada and Vic, there will be round tables on AI and women in the tech sector, as well as talks on the Internet of Things and computer security.
Catalonia's northern city of Girona will have the exhibition 'Capacitats i preparats' on how new technology can help people with professional and social inclusion.
Olot and Riudellots de la Selva will deal with security and privacy on smartphones, while Reus and Ribera d'Ebre will look into rural 5G and social innovation in schools.
Activities even reach as far as the Pyrenees, with talks on fibre optics in Alt Pirineu, as well as activities on robotic education in Alta Ribagorça, Pallars Jussà and Pallars Sobirà.