Pau Gasol becomes first Catalan basketball player to have jersey retired in NBA
Los Angeles Lakers honor star at same level of legends like Kobe Bryant, Magic Johnson, and Kareem Abdul-Jabbar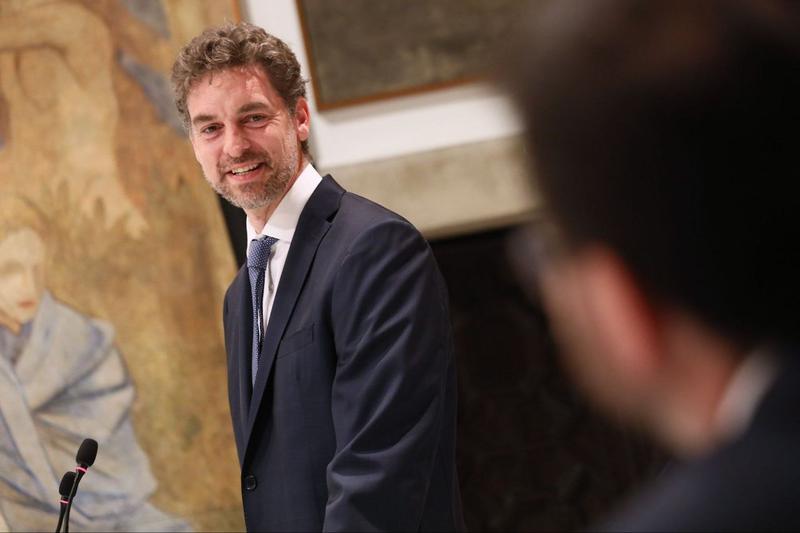 Wilt Chamberlain, Kareem Abdul-Jabbar, James Worthy, Magic Johnson, Shaquille O'Neal, Kobe Bryant… and now Pau Gasol.
Catalonia's most prominent basketball player ever has added another honor to his career: Los Angeles Lakers, his team for seven seasons between 2008 and 2014, has retired his jersey.
The number 16 will never be worn by a Lakers player again, as Gasol's jersey now hangs high in the arena alongside some of the biggest legends in LA Lakers or even NBA history.
During the event, the basketball player, who won two back-to-back NBA titles with the franchise in 2009 and 2010, thanked his family, everyone at the club and in Los Angeles including his head coach at the time, Phil Jackson, and also paid homage to his former teammate, Kobe Bryant, who died in a helicopter accident in January 2020.
For Gasol, Kobe was "the brother that elevated me, inspired me, challenged me to be a better player and better man overall," he said. " I am missing him so much, like many of us do. He will be proud. He was looking forward to this moment. I love you, brother."
Gasol, who was accompanied by his wife and two children, his two brothers and parents, as well as Bryant's widow, went on to say: "As a kid growing up in Spain I had a dream, playing in the NBA."
He also advised the public to "never set limitations about what you can do and you can achieve."
Pau Gasol: two-decade glittering career
Gasol retired in October 2021 after a glittering career.
He began playing at FC Barcelona in 1998 before moving to the NBA as the third overall pick in the 2001 draft.
In the United States, on top of the two NBA Championships he won, Gasol was picked in the NBA All-Star team on six occasions, and picked up the Rookie of the Year honour in his first season.
His stateside career began at the Memphis Grizzlies, before moving to the Lakers, the Chicago Bulls, San Antonio Spurs, Milwaukee Bucks, and the Portland Trailblazers.
Throughout his NBA career, Gasol played more than 1,200 regular season games where he averaged 17.0 points per game, 9.2 rebounds per game, and 3.2 assists per game.
He also competed in 136 playoff encounters, posting 15.4 points per game, 9.2 rebounds per game, 3.2 assists per game.
During his two spells at Barça, the Catalan helped his side to three Liga ACB titles, including the 2021 crown after he returned to his hometown club in February to finish off his club career. He also picked up the 2001 Copa del Rey title, when he was named MVP.
Gasol also helped drive the Spanish national team to the 2006 FIBA World Championship as well as the EuroBasket crown in 2009, 2011, and 2015, plus three Olympic medals: silver in 2008 and 2012, and bronze in 2016.
After his brother, Marc Gasol, picked up the NBA title in 2019, the pair became the first set of siblings to both win NBA Championships.