Messi is back after 58 days and is named to face Getafe
The Argentinean is set to play for the first time since he was injured against Betis at the Benito Villamarín Stadium 58 days ago. He has been named in the FC Barcelona squad to face Getafe at the Spanish Cup on Wednesday. On the 10th of November, in the 19th minute, Messi injured himself and had to be substituted. Up to that point he had scored 14 goals and 16 official matches. On the day after, tests confirm that he had torn a hamstring muscle and would be out for 6 to 8 weeks. On the 20th of December, tests confirm the player had completed the clinical phase of his recovery and on the 2nd January he trains with the squad again.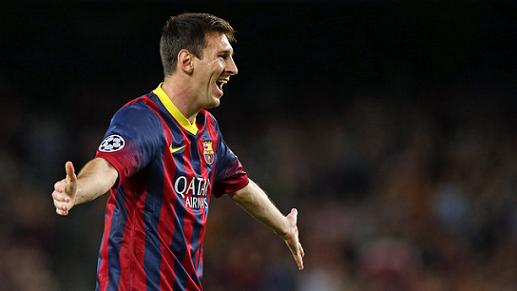 Barcelona (FCB).- Leo Messi was declared fully fit on Tuesday and has been named by FC Barcelona's Boss Gerardo Martino for the cup game with Getafe. 58 days have passed since he was injured at the Benito Villamarín. Here we look back at what has happened since to the greatest player in the world.
November 10. In the 19th minute he injures himself against Betis and has to be substituted. Up to this point, he had scored 14 goals in 16 official matches.
November 11. Tests confirm that he had torn a hamstring muscle and would be out for 6 to 8 weeks.
November 12. Messi used Facebook to speak to the fans and say "Thank you to you all for being by my side through these difficult times".
November 17. In an interview with Argentinian paper 'Olé' he said that "the injury was accident ... The plan is for me to play again when my body tells me it can".
November 20. Three days later, when he is presented with the Golden Boot, he is pleased to comment that "I can hardly feel any pain".
November 29. Leo Messi returns to his home country for the second stage of his recovery, accompanied by doctor Daniel Martínez and kinesiologist Luis García from the Argentinian national team's medical team.
December 17. Doctor Ricard Pruna and director of sport Andoni Zubizarreta travel to Argentina to learn how his recovery is going. Also in Argentina is club physio Elvio Paolorosso.
December 18. Examinations and echography performed by Doctor Pruna at the AFA facility in Buenos Aires show how well Leo Messi is recovering from his injury.
December 20. Tests confirm that the player has completed the clinical phase of his recovery.
December 21. On his Tencent Weibo account, he comments that "the countdown to my full recovery has begun." Martino claims that "he will be in perfect condition to rejoin the team in the new year".
December 30. "I'm wishing for an injury-free 2014", he says on the 'Mundo Leo' TV show. "After spending new year with my people, I'm flying to Barcelona on January 1 and we'll then have to see when I'll be fit to make my return."
January 1. Messi flies back from Argentina to Barcelona.
January 2. Messi takes part in the evening training session, his first workout with the squad since the injury.
January 3. In the open-doors training session, Messi scores three goals to show just how ready he is to return to action. The Miniestadi goes wild as they watch their hero return.
January 7. After an absence of 58, Messi is declared fully fit.