Workers from health and education sectors defend public services at protest in Barcelona
Hundreds of doctors, nurses, and teaching staff gathered in front of the Catalan government headquarters on Saturday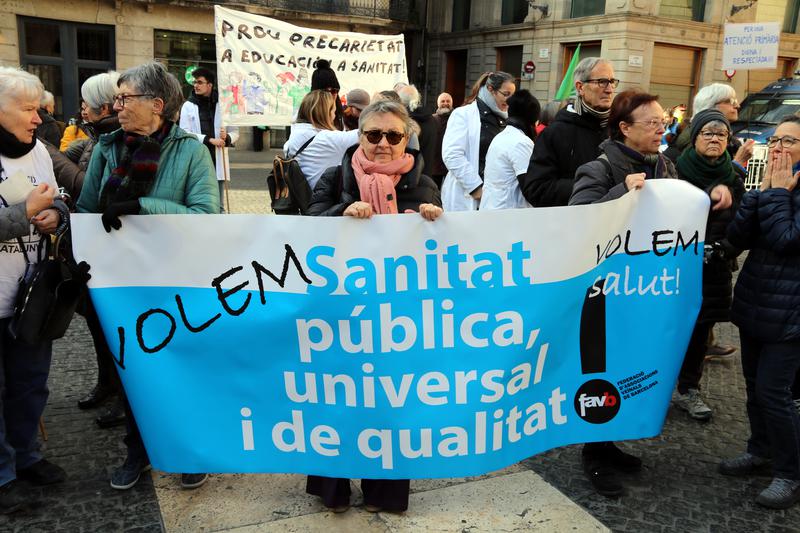 Hundreds of workers from the health and education sectors gathered in front of the Catalan government headquarters building in Barcelona in defence of public services on Saturday morning.
Hundreds of doctors, nurses, teaching staff, students, and pensioners demanded a strengthening of the services they deem vital to the country.
In a unitary protest that brought together public workers from different fields but similar problems, they called for 100% public and free healthcare and education, all of a higher standard they currently regard it as.
There was special attention given to the need for improvements in the working conditions of less visible groups such as nurses and special education specialists.
Protesters also want to see a reversal of the cuts both sectors have seen ever since the 2008 financial crisis. Since then, representatives from both fields explained during speeches in Plaça Sant Jaume square on Saturday morning how doctors and teachers are left overworked and underpaid.
"We will continue to fight so that everyone's money goes to everyone's well-being and not to infrastructure that no one asks for," Pedro Mercader of the teachers' section of the union CGT said during a speech, making reference to projects such as the Hard Rock hotel-casino complex that is currently at a standstill, and the B-40 highway that featured in negotiations over the Catalan budget this week.
With their salaries not matching the rising cost of living over the past 15 years, workers say they want to be paid fairly for their work.
At the same time, the cuts to the sectors have led to workers taking on bigger workloads, causing burnout and stress.
Precariousness was another main talking point of the protests, as speeches denounced that many workers have been living with temporary contracts for up to 20 years in some cases, offering little security.
The demonstration on Saturday was a culmination of the protests seen throughout the week, as both sectors demand answers and improvements from their respective governmental departments.
In Barcelona and across Catalonia, thousands of people took part in strikes on numerous days throughout the week, with further protests planned for in the coming weeks.