Health and education sectors take to the streets on second day of strike
Over 5,500 protestors demonstrate in Barcelona in different rallies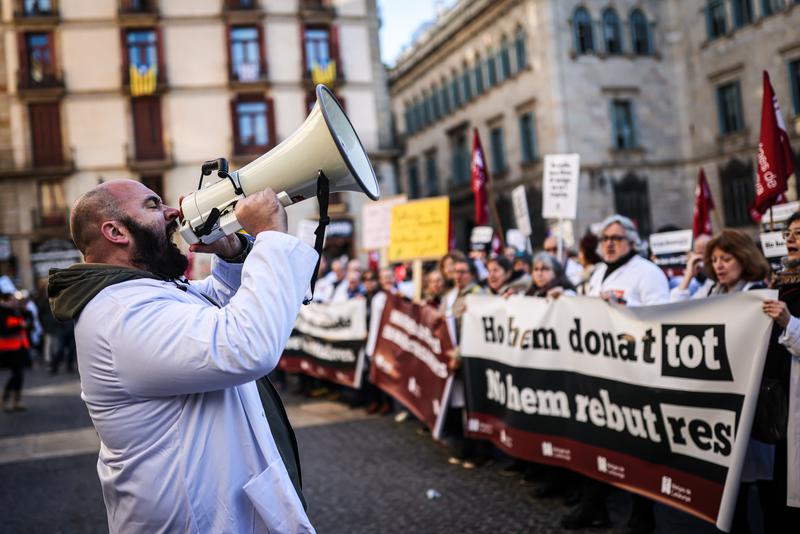 Catalonia saw a second day of strikes on Thursday after health and education sector workers took to the streets across the territory. While the major demonstrations took place in Barcelona, unions also rallied in cities such as Girona, Lleida, and Tarragona.
Health community members protested in front of the Catalan government HQ before marching to the parliament. Around 5,000 people participated in the demonstration, according to the local Guàrdia Urbana police.
Protestors criticized the "lack" of professionals and the workload and urged politicians to "show their faces" to solve the problem. On Wednesday, around 9,300 healthcare workers walked from the health department to the Sants train station to show the route professionals take before moving abroad for better working conditions.
While members of the health sector rallied, just in front of the Catalan education department, around 500 people chanted against education minister Josep Gonzàlez-Cambray and set a small classroom bin on fire as a way of burning the politician's "impositions."
Demonstrators also waved signs reading 'Bye, bye, Cambray,' in a protest much smaller than the one that saw around 6,500 people take to the streets the previous day in Barcelona.
Outside of Barcelona, workers from both communities voiced their anger against their current working conditions in cities such as Girona, Lleida, and Tarragona.
North of Barcelona, in Girona, around 400 members of both sectors marched to urge for education and health to be "public and of quality," similar to the protest seen in Tarragona with over 500 people.
Meanwhile, in Lleida, in western Catalonia, dozens of public healthcare workers called for more medical professionals to be hired in front of their health centers.
"There is a lack of medical professionals, and we do not have enough time for visits," Neus Pociello, a pediatrician at the Arnau de Vilanova hospital in Lleida, said to the Catalan News Agency (ACN). Some rally-goers visit up to 70 patients daily, which Metges de Catalunya doctor's union considers an "extreme situation."
Different figures
Thursday saw a new difference between official figures released by the Catalan health and education departments and what unions announced.
According to the health ministry, 27.3% of doctors followed the strike in the morning, counting 67% of the health centers. In Primary Care Centers (CAPs), 33.4% of the doctors participated in the protest, and 3.4% of the other staff.
On the other hand, Metges de Catalunya themselves raises the following of the strike to 70%, five percentage points lower than the previous day.
The health department also says that 22.4% of medical professionals went on strike in the afternoon, while Metges de Catalunya says 72% did.
The Ministry of Education said that 5.15% of teachers participated in the strike by the morning, which counted responses from 87.74% of education centers in the territory. On the first day of the strike, the strike was followed by 7.7% of workers, something the USTEC teachers' union increased to 20%.