What to do on New Year's Eve in Barcelona and Catalonia
Fireworks, music, celebration, sparkling wine, and 12 grapes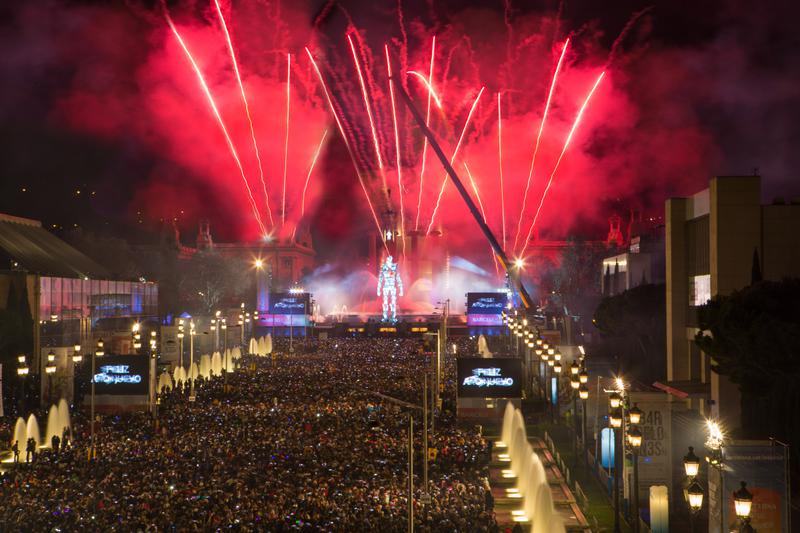 The most important element to celebrate New Year's Eve in Barcelona and Catalonia is, obviously, a new year, but 12 grapes. Tradition states that eating a grape with each of the twelve-clock bells striking at midnight will bring good fortune for the new year.
Barcelona: fireworks, drones, music and fountains
Barcelona's official New Year celebration occurs on Reina Maria Cristina Avenue, between Montjuïc's Font Màgica and Plaça Espanya. At 9.30 pm. The show returns after the Covid-19 hiatus, and while it used to have fireworks and music as its main characters, organizers have included a drone show this year. With Catalonia's National Palace as a backdrop, the spectacular setting is unmatched and is totally free.
Street parties across Catalonia
Starting the year partying in the street surrounded by other people is a popular plan. Still, you might want to avoid the crowds of people who will gather in Barcelona. There are other options all across Catalonia. Cervera, in Lleida, will have a street celebration with all the traditional elements: bells, the 12 grapes, and cava (Catalonia's typical sparkling wine).
St. Sylvester race: running with Santa's hat
Saint Sylvester races are a traditional way to end the year in Catalonia. The biggest one is held in Barcelona, and is called "La Cursa dels Nassos"(The Noses Race). Yet, many towns and villages throughout the country also organize Saint Sylvester races. It is common for participants to dress up, with Santa hats being the most popular item. Badalona, near Barcelona, organizes a 10 km race that takes runners through the town and its old quarters. Berga, in northern Catalonia, organizes a 5 km race.
Theatre shows
It is increasingly common to enjoy New Year's Eve at a special live show in a theatre with your friends, family, and a stage full of extravaganza and confetti. This year, in the Catalan capital, theatre-goers can enjoy 'Golfus de Roma,' in the Teatre Condal, a musical comedy. Also 'La Salsa' is another comedy in the Teatre Aquitània theatre. There are many shows, including a Christmas gig in the Teatre Maldà. All of these performances are special; at midnight, they stop for a moment, celebrate the new year, and then continue as if nothing had happened.
Poble Espanyol party
Music, party, and a trip across Spain in just one night. The Poble Espanyol venue organizes a New Year's Eve party where people enjoy Spain's different architecture and celebrate 2023. Tickets cost €40 and include access to the party, four drinks, grapes, and a party bag. VIPs can pay €60 and will also be able to enter the VIP area.
Happy Snow Year: skiing in the Pyrenees
The Pyrenees make Catalonia a perfect destination for mountain lovers. Most ski resorts are organizing special events to celebrate New Year's Eve. One of the most popular activities is the torchlit parades, in which participants ski down the mountain carrying torches.
Country houses
Cozy cottages lost in the Catalan countryside are among the most popular options for big groups of friends. Although most houses might be booked by now, it's never too late to discover Catalonia's unique array of rural accommodations.
...and if you're looking for something to do the morning after
There are several activities you can do on January 1. If you don't go to sleep very late, you could go to the "Aplec del Sol Ixent" in Cadaqués, an idyllic seaside town north of Barcelona where the Catalan artist Salvador Dalí lived for many years. At 7 am, people gather to watch the sun rise over the lighthouse. In Barcelona, the so-called First Swim of the Year brings hundreds of people to Platja de Sant Sebastià beach to take a dip, despite the cold. Later, the Club Natació Atlètic-Barceloneta offers the brave participants soup.