Three years on, Catalan activists face trial over independence bid protests
Hearings for two new cases concerning 2017 protests kick off on Monday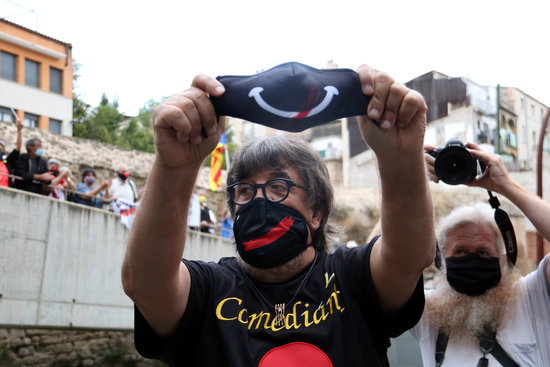 Three years have passed since Catalonia's attempted bid to separate from Spain, and while its most senior leaders were sentenced almost a year ago, judicial cases against grassroots activists who participated in the 2017 protests are far from over.
On Monday, two separate trials started with pro-independence supporters sitting on the dock for their role in the 2017 protests that were aimed at defying Spain's efforts to halt the referendum on independence that was ruled illegal.
CDRs face 3 to 5 years in prison for blocking road
A court in Barcelona will try four members of the Committees for the Defense of the Republic (CDR), a decentralized network of protest groups created in the run-up to the October 1 referendum.
The four activists are accused of blocking Barcelona's Ronda de Dlat ring road on November 8, 2017 to protest the pre-trial detention of Catalan ministers, the parliament speaker, and civil society leaders — most of them were found guilty of sedition and sentenced to serve up to 13 years in prison.
The CDR activists are accused of public disorder and crimes against road traffic safety for blocking Barcelona's Ronda de Dalt ring road for four hours, causing a 15km-long traffic jam. The public prosecutor requests prison sentences from 3 to 5 years.
Clown accused of 'severe disobedience'
In a separate case, a court in Manresa will see clown Jordi Pesarrodona sit in the dock for his actions on the day of the referendum in his hometown of Sant Joan de Vilatorrada, where he also serves as a local councilor.
He is accused of "severe disobedience" and could face a €5,400 fine, as well as a two-year ban from public office, which would effectively disqualify him from his current post in the local council.