Tenant complains of being forced to leave Barcelona apartment over LGBTI pride flag
Landlord says symbol breached rental contract by "modifying uniformity" and "aesthetic of building"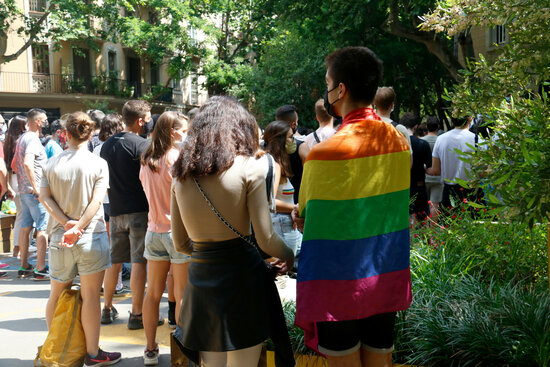 A 30-year-old Barcelona resident has taken to Twitter to explain how his former landlord kicked him out of his Balmes street apartment for hanging an LGBTI pride flag from his terrace.
Avui marxo de casa meva per tenir penjada la meva bandera LGTBI a la terrassa, ja que m'han obligat a despenjar-la. Obro fil: ⤵️ pic.twitter.com/GcXjnMA7rw

— Marc Anguera Gisbert 🎗 (@marcanguera19) December 4, 2021
In a thread published on Saturday, Marc Anguera Gisbert explained how he had moved out that same morning after receiving an email from the real estate agency a few weeks ago.
In it, they asked him to remove the rainbow flag as the landlord had complained it breach the contract by "modifying the uniformity" of the façade and altering the "aesthetic of the building."
Anguera Gisbert, who provided screenshots of the email exchange between himself and the other party, responded by telling them that he would not take it down, especially after the murder of Samuel in A Coruña last summer and homophobic attacks that have taken place in Barcelona, and said that he would move out if they forced him to remove it.
According to Anguera Gisbert, the real estate agency said they thought he had the right to display the flag. Despite this, weeks later he says he got a call from the landlord who told him "the façade is not a store window."
"I have no doubt the reason the flag had to come down was purely ideological," Anguera Gisbert Tweeted. "There are still intolerant people in society."