Targeted mass screenings in Covid-19 clusters surpass 15,000 PCR tests
Take a look at this interactive map to know where and when a free coronavirus PCR test can be requested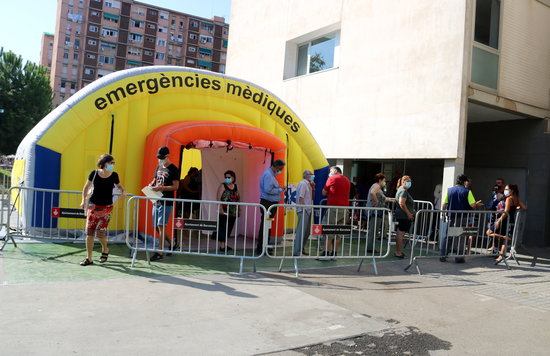 Over 15,000 people have taken part in the targeted mass coronavirus screenings in specific areas with a higher impact of Covid-19 since the tests began two weeks ago, in early August.
With these actions, the Catalan health department aims to react to coronavirus clusters within a few hours or days where the risk is pinpointed – so the target might be neighbors of specific streets or neighborhoods.
The screenings usually take place on the street, inside a yellow medical marquee of the Catalan emergency services.
Those willing to undergo a test to know whether they are asymptomatic cases queue outside the tent and must prove that they live where the screening is targeted.
The health department informed on Tuesday that since this procedure was launched, 15,556 people have already been tested, and 345 of them were found positive, 2.22% of the total.
"They are asymptomatic cases, if they had not been identified, they would have transmitted Covid-19." Now those with the virus will have to be confined for at least 10 days and their inner circles will be contacted.
Authorities also explained that the screenings are taking place in areas where both the number of transmissions and the index of transmission is growing, and sometimes for certain age ranges – most of the tests have been performed in the Barcelona metropolitan area.
The first pilot run of the screenings began in Granollers (Vallès Oriental county) in the last week of July, and continued in Terrassa, Sabadell, Ripollet (Vallès Occidental) and Torregrossa (Pla d'Urgell) in the first week of August.
Santa Coloma de Gramenet (Barcelonès) and Vilafranca del Penedès (Alt Penedès) were sites of screenings last week, as well as the Torre Baró neighborhood, in Barcelona.
This week, more tests are being done in Santa Coloma de Gramenet, Sabadell, and also in the Barcelona areas of Besòs and El Maresme, Torrassa and Collblanc in L'Hospitalet de Llobregat (Barcelonès), Albesa (Noguera) and also in Benifallet (Baix Ebre).
Take a look at this interactive map to know where and when a free coronavirus PCR test can be requested: