Health department aims to lower the transmission curve after virus spread stabilizes
Mass coronavirus testing to be performed in two Barcelona neighbourhoods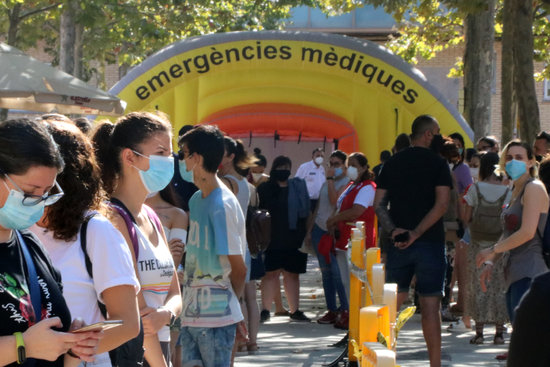 The secretary of public health, Josep Maria Argimon, confirmed on Tuesday that the current Covid-19 situation in Catalonia has stabilized after having soared in July, an increase that led health officials and politicians to warn of "critical" days for pandemic control.
Argimon believes that the first goal, to stabilize the situation, has been achieved and that in the coming weeks the objective is to "lower infection rates" and to make the curve trend "downward." However, the health official recalled that the risk of outbreaks is still high.
The secretary of public health calls for "everyone's effort" and "self-responsibility" to achieve this and for administrations to find "social support formulas" that facilitate isolation and quarantine.
At this Tuesday's press conference, Argimon explained that to move from a phase of virus stabilization to lower the infection rate, it is necessary to lower the rate of transmission of the virus, a figure which is now at 0.93.
Along with this figure, the goal is to lower infection rates, which currently stands at 70.67 cases (confirmed by PCR) per 100,000 population in the last seven days, as well as the risk of regrowth, a figure which stands at 138.79 - for this figure, above 100 represents a high risk.
Mass testing
The health department has begun carrying out mass coronavirus testing of the population in an effort to halt the spread of the disease.
On Wednesday morning, it was announced that the testing would be brought to two neighbourhoods in Barcelona, Torre Baró and Besòs.
Previously, testing has been performed in Sabadell, Terrassa, Granollers, Ripollet, and other places.
The first results detected 208 new cases of Covid-19, most of them in people who had no symptoms. A total of 8,275 PCR tests were performed.
Josep Maria Argimon gave a favorable assessment of the screenings, and announced that more will be carried out. The public health secretary highlighted the asymptomatic cases that have emerged, about 160 -with about a thousand contacts-.
"They are people who did not know they had the virus and could transmit it," he noted, adding: "If isolations and quarantines are then made, we are clearly breaking the chains of transmission. We are being proactive."
In Granollers, a total of 1,053 PCR tests were performed and 108 tested positive (10.2%). 72 people had no symptoms of the disease.
In Sabadell, 3,099 tests were performed and 57 tested positive (1.8%). In Terrassa, 1,173 were made, with 11 positives (0.93%). In Ripollet, 1,359, with 11 positives (0.81%).