Spanish court to rule on whether it's competent to judge case against Catalan leaders
Crucial trial heats up as initial hearings start in Supreme Court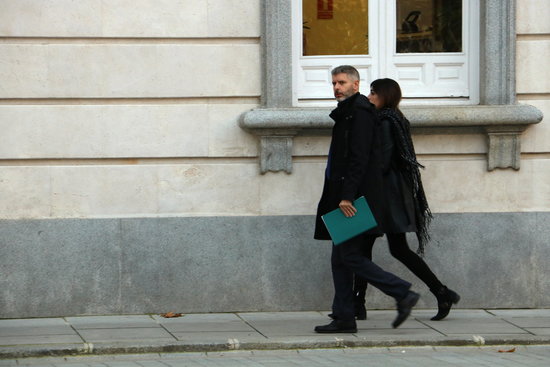 Spain's Supreme Court is holding a hearing on Tuesday to rule on whether it's competent to judge the case against Catalan pro-independence leaders, thus opening the initial hearings of a trial that could have major implications for the long-lasting political conflict.
All 18 leaders on trial have requested their case to be handled by Spain's High Court in Catalonia, as they argue that the Supreme Court, in Madrid, is not competent to judge them.
Politicians to face trial include former ministers of the government that called a referendum and declared independence a year ago despite Spain's opposition.
In total, nine people are in pre-trial jail for their role in Catalonia's push for independence, including six former ministers, two activists, and the former parliament speaker that allowed a vote on independence to take place.
As the Supreme Court determines whether or not it's competent to handle the case, jailed leaders won't be present in the courtroom, with their attendance not required until the official hearings start in the coming weeks.
The public prosecutor requested a total of 177 years in jail for pro-independence leaders, with a single prison sentence of 25 years for ex-vice president Oriol Junqueras.
Fundamental rights violated
Defendants' lawyers argue that all events took place in Catalonia, and therefore the accused should be tried there. Yet, they said that the Spanish judiciary is "interested" in handling the case in Madrid.
Lawyers denounce the violation of fundamental rights such as the right to the judge predetermined by law, as well as the right to appeal (as the highest court trying criminal cases in Spain, a Supreme Court decision can't be appealed).
"It's not a matter of ordinary law, but one of fundamental rights," said Andreu van den Eynde, the lawyer of Junqueras and former minister Raül Romeva.
The public prosecutor argued the case should indeed be tried by the Supreme Court because the goal of pro-independence parties was to "abolish" the Spanish constitution.