Spain to extend temporary unemployment scheme until February 28
Furloughed workers' benefits prolonged for another month following agreement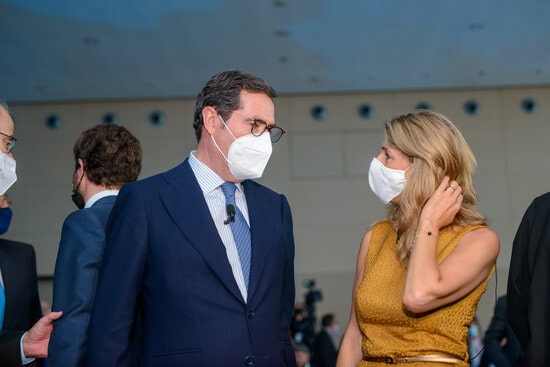 Spain's temporary unemployment scheme, known as ERTE in Spanish or ERTO in Catalan, will be extended until February 28, 2022, following an agreement between the Spanish government, employer organizations, and unions.
Workers who are currently furloughed will be able to receive the same benefits for another month after they were set to expire, until October 31, while the new program will be in place from November 1 through the end of February.
Starting in November, companies will have to offer their employees skill development training courses in order to benefit from and ERTO.
The Spanish government covers 70% of temporary unemployed workers' salaries for the first 180 days they are on the scheme and then 50% thereafter. Companies sometimes pay the remaining part of their employees' usual wages but are under no legal obligation to do so.
The amounts received from furloughs will not count as unemployment benefits until January 1, 2023, which means that if an employee had the right to two years of jobseeker's allowances, they will still have the right to even if they have received ERTO benefits during the pandemic and prior to 2023.
In order to have the right to a furlough allowance, workers cannot work overtime and they must remain employed.
In mid-August, there were 55,018 workers in the ERTO scheme, around 11% fewer than in July. These figures are very far from the peak of the first Covid-19 wave when they surpassed 700,000.
As for those who are unemployed, the trend is positive, with 391,128 people registered as jobseekers at the end of August — the lowest figure since December 2019, a few months before the global economy was shaken by the coronavirus pandemic.
Minimum wage
The talks between the Spanish government with unions and business associations coincides with negotiations between the same participants over raising the minimum salary.
In mid-September, Pedro Sánchez's cabinet and the CCOO and UGT trade unions agreed to increase the
minimum wage from €950 to €965 gross/month
, which will be paid retroactively from September 1 despite failing to secure support from employers associations.
Yet, unions demand that this figure reach €1,000 at the beginning of 2022.
Spain's cabinet meeting approved the increase only for 2021 on Tuesday, September 28, but it will be paid from September 1.
With this 1.6% increase, the minimum wage now nears €1,000 gross/month - the equivalent of 60% of the average salary in Spain and one of the Socialists' electoral promises by the end of their current term in office.
Work minister Yolanda Díaz said her cabinet begins to work now in further raises up to 60% of the average salary.