Spanish Congress confirms state of alarm extended until April 11
Catalan pro-independence parties refuse to back motion as they want Spain to accept total confinement for Catalonia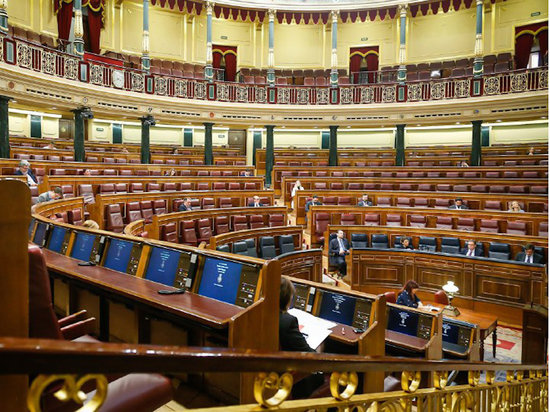 The Spanish Congress has voted to extend the state of alarm until April 11.
The vote, at around 2 am of Thursday in Spain's lower chamber, passed as expected, with 321 voting for and 28 abstaining.
Many MPs voted remotely with only around 40 turning up to the chamber in person due to the coronavirus crisis.
An extension of the state of alarm, in place since March 14, required parliament approval, in accordance with the Spanish constitution.
The Spanish president Pedro Sánchez called for unity and loyalty and said he would take more measures in the coming days to "win the war against the virus."
His Socialists party and their coalition partners Podemos, together with their Catalan allies En Comú Podem, were joined by the People's Party, Vox and Ciudadanos in backing the motion.
Pro-independence parties demand total confinement of Catalonia
Before the vote the pro-independence Catalan parties made it clear they would not be voting in favour of the extension under the current circumstances, but abstaining.
This meant that 25 out of the 48 Catalan MPs sided with extending the state of alarm, while 23 abstained.
ERC said they would be abstaining unless the Spanish government agreed to the confinement of the whole of Catalonia. They hoped to arrive at a joint position with the other Catalan pro-independence parties as well as Basque and Galician nationalist parties.
ERC's coalition partners in the Catalan government, Junts per Catalunya, took a similar view, also abstaining from the vote. Their spokesperson Laura Borràs agreed that extending the state of alarm was necessary but said there was "another way to do it." On Tuesday she described the current scenario as, "insufficient and, as President Torra has been demanding, total confinement of the population must be included."
The far-left CUP party laid out their position on Wednesday morning. They would also be abstaining, because, despite agreeing with necessary measures to combat coronavirus expansion, such as public control of all private healthcare and pharmaceutical resources, they could not support the "grave problem of centralization of powers, the militarization of emergency management and the inadequacy of the measures."