Seven pro-independence activists sent to prison without bail under terrorism charges
CDR members accused of belonging to a terrorist group and making explosives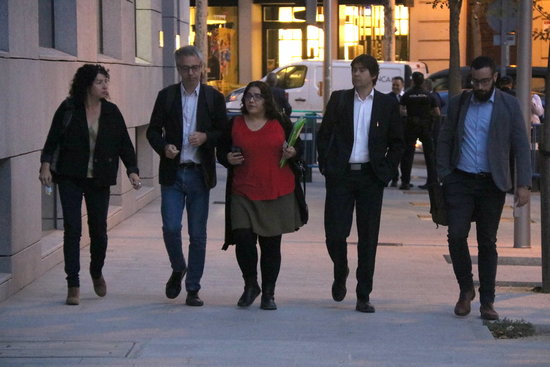 Spain's National Court has sent seven pro-independence activists to prison without bail accused of belonging to a terrorist organization, making and possessing explosives, and conspiring to cause criminal damage.
Arrested by Spanish Guardia Civil police in Catalonia on Monday, the seven accused are members of the Committees in Defense of the Republic (CDR), a network of protest groups created in the run-up to the independence referendum in 2017.
According to the judge Manuel García Castellón, evidence suggests that the accused belonged to a "hierarchical organization aiming to establish a Catalan republic by all means, including violence."
García Castellón justifies their imprisonment based on the "severity of the alleged crimes," their ability to destroy evidence, and the repeat offense as well as flight risks they pose.
While nine CDR activists were arrested on Monday, two were released shortly afterward under terrorism charges. The rest were transferred to Madrid, where they will remain behind bars as the investigation continues.
Parties react to the imprisonments
The independence camp has been extremely wary of the arrests, with president Quim Torra claiming that Spanish authorities were trying to create a "false narrative of violence in Catalonia".
Carles Riera, an MP for CUP party, says the jailing of activists is part of a "state operation" with the aim of linking the independence movement to terrorism.
On the other side of the political spectrum, an MP for unionist Ciutadans party, Carlos Carrizosa, called on the Spanish president to intervene in Catalonia: "What else needs to happen? Must someone be killed?"