'What do you fear?': President demands agreed referendum in key parliament speech
Quim Torra accuses Spanish authorities of "violating presumption of innocence"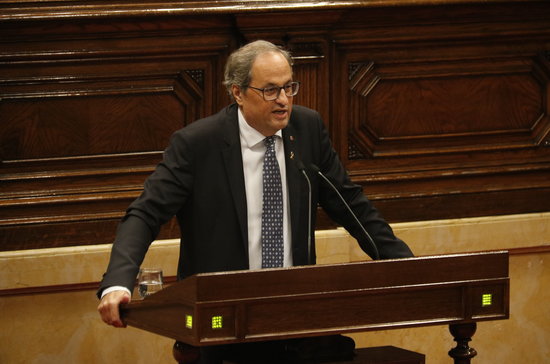 The Catalan president, Quim Torra, has demanded once more that Spain's government sit at a negotiating table and agree on an independence referendum.
In the key annual general policies parliamentary debate on Wednesday, Torra asked for unionists to "leave the criminal code outside the chamber" and said his ideal would be for "citizens to have their say about independence."
He also referred to Spain's unmovable refusal of such referendum. "What do you fear, not having a majority? What's the problem?"
Catalonia's chief emphasized the need of dialogue, but without ruling out going on with the road to independence if Madrid rejects such talks.
"We will always want dialogue, but as they don't sit at the table, we will continue forward and won't stop."
Torra recalled that unionists have repeatedly claimed that they are the majority among citizens and said: "So then, why don't you silence us for a few years with a binding referendum like democratic countries do?"