Sentences for far-right supporters who assaulted Catalan cultural center reduced
Supreme Court lowers convictions to two and a half years each, none of the assailants have yet gone to prison seven years after events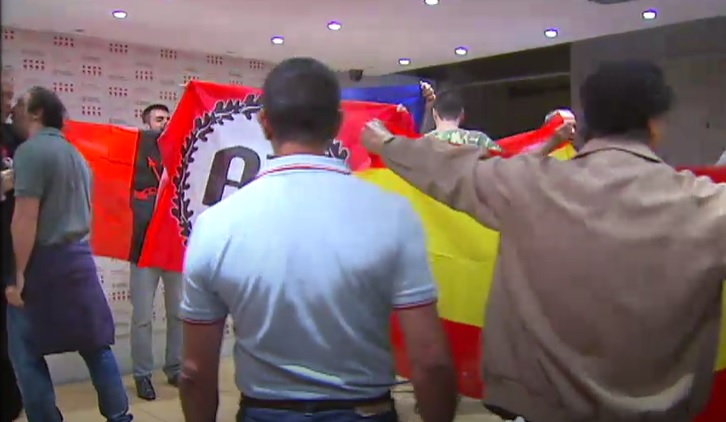 The sentences for the 14 far-right supporters who assaulted the Catalan cultural center in Madrid in 2013 have been lowered.
The Supreme Court reduced the convictions from around four years to between two years and seven months, and two years and nine months, after the Constitutional Court overturned the previous sentence in January.
In raising the original sentences given to the men by a provincial Madrid court of between six and eight months ruled in 2016, the Supreme Court cited in its 2017 review "intolerance towards the Catalanist ideology of those attending the event" as an aggravating factor in their offenses, increasing the convictions to around four years.
The Constitutional Court overturned it in early 2020 applying the so-called Atutxa Doctrine, which in European law prevents an appeals court (in this case the Supreme Court) from changing a sentence on subjective grounds without allowing the defendants to testify.
The Blanquerna assault
The attack on the Blanquerna Cultural Center in Madrid took place during a celebration of Catalonia's national day on September 11, 2013.
The men carrying far-right symbols stormed the center when the Catalan government delegate, Josep Maria Bosch Bessa, was about to speak. He was physically assaulted, as well as the then MP in Spain's Congress, Josep Sánchez Llibre. They destroyed the stage, threw the Catalan flag to the ground, and threw tear gas canisters before leaving a few minutes later.
They were carrying Spanish flags, and symbols related to the far right and Francoist ideologies, and chanted "Catalonia is Spain."
Seven years after the incidents, none of the 14 assailants have gone to jail in any moment of the procedure yet.