Second day of police patrols against Barcelona's 'top manta' sellers
Some hundred officers from three forces again patrolled key areas of the city to discourage illegal street selling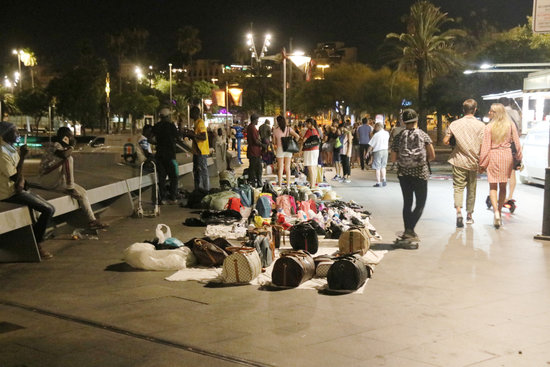 Officers from the Mossos d'Esquadra Catalan police, the Barcelona city police and the city's port police were out for a second day in the Catalan capital on Tuesday, patrolling some of the main tourist areas to discourage illegal street vendors from selling their wares.
The police yesterday began a "permanent" campaign against the 'top manta' sellers. 'Manta' means blanket in Catalan, and refers to the coverings the vendors place on the ground to display their wares that can be quickly collected when the police appear.
The measure from the city council aims to "eradicate" the illegal vendors by having officers patrol key areas between 9.30am until 10pm each day. However, at 10pm on Monday, after the police patrols were over, some 30 sellers set up shop near the Barcelona seafront.
Meanwhile, Catalonia's ombudsman, Rafael Ribó, said on Tuesday that his office recommended a "full-frontal assault on illegal trading" in 2016, in a report involving "all administrations," which also advised offering social help to the vendors concerned.
Territory minister, Damià Calvet, spoke of "the political will" of the municipal authorities and the Catalan government "to take this illegal activity towards a situation in which we can recover the coexistence and the normal operation of the public thoroughfare."