Seasonal workers in Lleida out of work and trapped due to confinement
Hail and heavy rain has damaged many of the crops they would harvest, and their situation has been made worse by the extra lockdown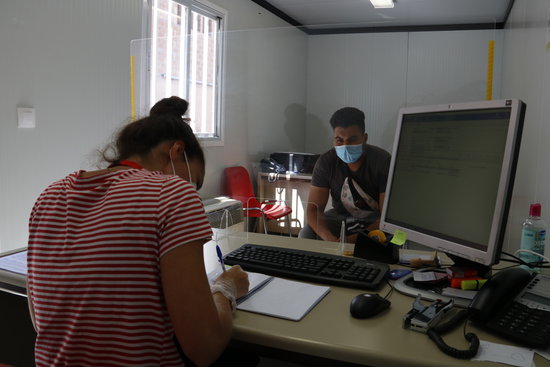 People staying in the Fira de Lleida congress hall who are there to work in the fruit harvesting season have seen their situation made worse by the latest lockdown measures placed on the Segrià county.
Due to some outbreaks of the coronavirus, people cannot enter or leave the county of Segrià, making it very difficult to look for work beyond the region.
This adds to the fact that there are fewer jobs available than previous years due to hailstorms that fell in June that damaged a lot of the fruit that was about to be harvested.
In June, Lleida also saw racism accusations when numerous accommodation businesses refused to allow some fruit pickers stay in their houses, hotels, and hostels.
Outside the Fira de Lleida pavilions, there are four modules where all those people who have come to Lleida to work in fruit harvesting are served. This is not the first year that this temporary care office has been in operation, but this summer, the conditions are even more atypical due to the pandemic and the lockdown.
The coordinator of the social welfare department of Lleida city council, Gemma Domingo, explained that although there is "kind of a call" to go to Lleida to work on fruit picking because "traditionally there is work," this year, due to the pandemic and poor weather conditions, this is not the case.
Many people have already come to Lleida in search of the work there, but now find themselves without work and unable to leave the area due to the confinement.
Services at Lleida congress hall
At Fira de Lleida there is a facility for the seasonal workers with basic services such as showers, meals, and accommodation. The service office welcomes and accompanies people who arrive in Lleida, and they receive first aid to know what their situation and needs are.
Domingo assures that despite the new lockdown measures, there is still room to sleep in the pavilions and she is confident that this will be guaranteed for the next few days.
The care is provided by social workers and technicians from the city, who help the seasonal workers find jobs. Volunteers such as Mohamed Ouali from the Focs Association are also involved in helping the seasonal workers. Ouali speaks six languages ​​and helps as a translator and mediator between temporary workers and technicians.
Their work goes beyond translations though, as they guide the seasonal workers by explaining the services that can be offered to them or how to find a job. All of this he says serves to make them "feel safer."
Now that the county is confined, Ouali notes that it is more difficult in finding work and hopes that the situation will improve in the coming weeks with a decrease in Covid-19 cases.
Difficulty finding work
Yassin is originally from Morocco and has been in Lleida for 10 days where he arrived in search of work. He traveled to the Lleida congress hall to register at the office and be able to sleep in the pavilion.
He arrived from Algeciras, the port city in the south of Spain, and travelled to Murcia when Phase 3 of the de-escalation process began and he was able to travel between provinces. There, he couldn't find a job and was recommended instead to go to Lleida.
Yassin then moved to Aitona, in the county of Segrià, but a hailstorm had damaged many fruit crops and he could not find work there either. He has now moved to Lleida city because it is where he can sleep and eat until he finds work.
Now he would like to leave the city to look in other neighboring counties but cannot because of the lockdown. Yassin has worked as a gardener in Barcelona and also in Andalusia as a seasonal worker. He left his children in Andalusia, where he is married to a Catalan woman.
Mohamed, on the other hand, is a young man who arrived to Spain two years ago and just arrived in Lleida last Saturday. He explains that he has a lot of problems working because he has no papers and needs money to support his family in Morocco.
He had previously worked on farms in Madrid but now with the coronavirus he says it is very difficult to find work. In fact, he is a welder by profession but is looking for any type of work. He has been sleeping on the street for two days and has finally signed up to sleep in the Fira de Lleidapavilions.