Protests mark three months since jailing of rapper
Pablo Hasel's imprisonment over his lyrics and tweets sparked a wave of unrest across Catalonia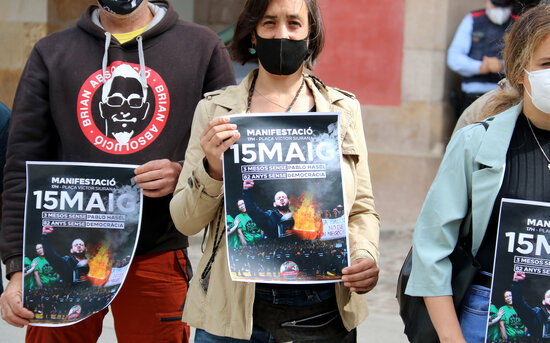 Three months after the imprisonment of the rapper Pablo Hasel, which raised freedom of expression concerns and sparked a wave of unrest across Catalonia, supporters have called for a massive protest in his hometown of Lleida on Saturday afternoon.
"We must stop normalizing repression and resist their constant attacks," said Hasel in a letter written from the city's Ponent penitentiary, where he's serving a sentence for his tweets and lyrics.
Spanish courts initially convicted the rapper to serve 2 year and 9 months in prison for glorifying terrorism and slandering the Spanish crown.
Another 16 months were later added to the sentence after he failed to pay €30,000 in fines from a separate case, also carrying a similar conviction.
Groups supporting Hasel have urged protesters to gather on Saturday at 5pm at the University of Lleida, where the rapper was arrested by riot police on February 16 after barricading himself alongside dozens of activists.
With demonstrations in support of Hasel descending into altercations for nearly two weeks straight, over a hundred people were arrested and dozens required medical treatment, including a young woman who lost her eye after being hit by a foam bullet shot by police.
Rioters also set barricades ablaze and vandalized chain stores and bank offices, with the Catalan interior minister Miquel Sàmper describing the violence as "getting out of hand" after one police van was set on fire with an officer inside.
On Thursday, a group of parties encompassing those in support of Catalan independence as well as left-wing En Comú Podem announced they would support a motion urging lawmakers in the Spanish congress to repeal some of the crimes for which Hasel was tried.
Freemuse, an independent international organization advocating for freedom of artistic expression, condemned Spain for Hasel's imprisonment, with its director Srirak Plipat telling Catalan News that the criminal charges against the rapper were "inconsistent with international European human rights standards".
You can listen to an episode of the Catalan News podcast Filling the Sink on Pablo Hasel, the riots and the debate around freedom of speech below. It was recorded during the week of his arrest in February.