Protests begin around Catalonia to commemorate October 1 vote
On second anniversary of 2017 referendum, cities and towns around the country hold demonstrations in favor of independence, with 18,000 marching in Barcelona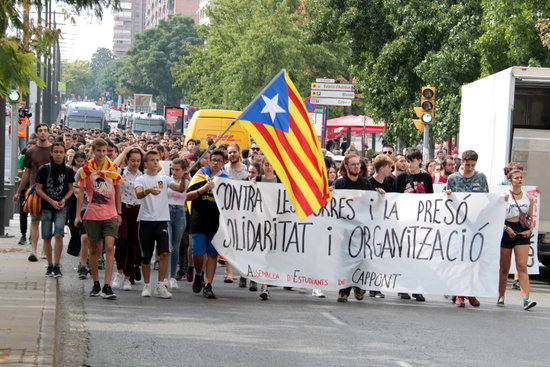 Wednesday evening has been one of protests in Catalonia, as various demonstrations took place on the second anniversary of the 2017 referendum that led to a declaration of independence, followed by Spain's temporary suspension of Catalan self-rule.
With the verdict for the trial of independence leaders in Spain's Supreme Court expected in the next few weeks, this year's anniversary of the self-determination vote that was declared illegal by the Spanish courts has particular resonance.
Barcelona has been a focal point for the protests, with an 18,000-strong march organized by the pro-independence civil group, the Catalan National Assembly (ANC in Catalan) that began at 7pm in one of the city's main squares, Plaça de Catalunya.
The march in the Catalan capital stopped in front of the European Commission office on the Passeig de Gràcia boulevard, before continuing on to the Jaume Balmes high school on Carrer de Pau Claris, one of the places where Spanish police used force to try to stop the vote.
Torchlit marches converge on Lledoners prison
The ANC organized another protest with four different torchlit marches that began at 8.30pm in the central county of Bages and converged at 9.30pm outside the Lledoners prison, where some of the jailed Catalan leaders are being held.
However, before that, various demonstrations began around Catalonia, such as the one in the southern city of Tarragona, where the ANC had called a protest in the central square of Plaça de la Font at 7pm.
Catalonia's other provincial capitals also have held protests, such as the demonstration called in the northern city of Girona, which will similarly featured torches, and which began at 7pm in one of the main squares, Plaça del Vi.
Meanwhile, the city of Lleida, in Catalonia's western province of the same name, began its demonstration organized by Taula per la Democràcia, which groups together various civil associations, at 7.30pm in the city's central square, Plaça de Ricard Viñes.
The use of torches to light up the protests is a feature of this year's anniversary and apart from those at Lledoners and in Girona, there will also be torchlit demonstrations in a variety of towns, such as Tordera, Cardedeu, Olot, Rubí, Abrera, Sant Cugat and Alella.