Protests against rapper's arrest coordinated by chat groups used during 2019 riots, study finds
Network of Telegram groups calling rallies against Pablo Hasel's detention was already at play when pro-independence leaders were sentenced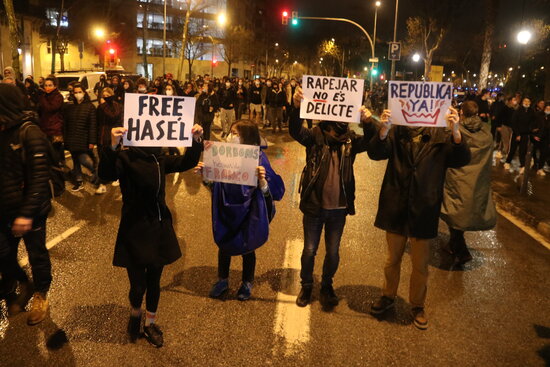 Catalonia's ongoing wave of protests and altercations, galvanized by the imprisonment of the rapper Pablo Hasel last week, relies on the same network of Telegram chat groups that helped coordinate the demonstrations against the sentencing of pro-independence leaders in the fall of 2019.
A group of researchers at Catalonia's Open University (UOC) has found that the "ecosystem" of semi-private chat rooms currently stirring mobilizations finds its origins in the push to hold a referendum and break away from Spain in 2017, and most notably in the protests against the conviction of its organizers two years later.
"These channels serve both as a space to create a community, and also play a role in the coordination of more or less spontaneous protests," researcher Emanuele Cozzo told Catalan News.
While some chat rooms played a more significant role in 2019, like 'Anonymous Catalonia', others have taken over as the main online hub for the ongoing protests, like 'La partida final-ACABem la partida', which has recently restricted access and made all its messages private.
Protests erupted on February 16 following the arrest of Hasel, who is currently serving a 9-month prison sentence for glorification of terrorism and slandering the Spanish crown in his tweets and lyrics.
Thousands of people have taken to the streets of Barcelona and other major Catalan towns almost uninterruptedly since Hasel's detention, with some rallies descending into altercations and violent clashes with police.
At least 112 people had been arrested in the first week of protests, which also left dozens of people injured, including a young woman who lost an eye to a foam bullet shot by the Catalan police.
Narratives clashing on Twitter
Cozzo and his colleagues at UOC's Internet Interdisciplinary Institute (IB3) also analysed how the wave of protests has stirred a fierce debate on Twitter, and how opposing groups try to legitimize or condemn some of the techniques used by protesters.
According to Cozzo, the so-called 'Catalan Twitter' (individuals who use the Catalan language when tweeting or interact with those who do) overwhelmingly supports the ongoing demonstrations, while the Spanish-speaking network of users is more divided in two factions for and against the protests.