Protest continues in Catalonia one week on - live updates
Spanish president visits Barcelona but rejects meeting with Catalan president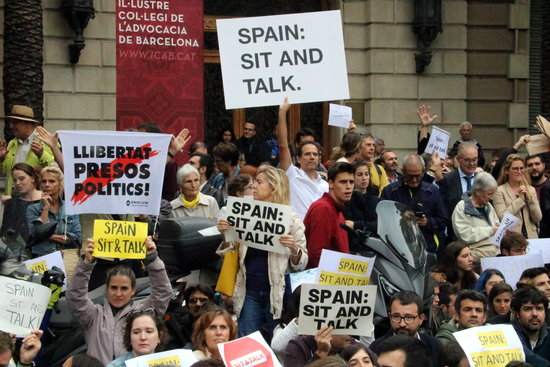 Exactly one week after nine Catalan leaders were given 9 to 13 years behind bars for their roles in the 2017 referendum, protests are set to continue. A week of political and societal unrest in Catalonia led to nearly 600 injuries as protests descended into unrest, with clashes with police and street fires to barricades becoming daily occurrences.
One week on, Spanish president Pedro Sánchez visited Barcelona, however, he left around 1:30 pm without meeting the president of the Catalan government, Quim Torra. Barcelona mayor Ada Colau urged Sánchez to speak with Torra after the Catalan leader offered a meeting on Monday.
The protest group Tsunami Democràtic called for as many people as possible to sit with their arms raised in front of the Spanish government headquarters in the center of Barcelona, with the aim being to encourage talks between the two presidents. The Socialist head disregarded these calls for dialogue, reiterating his stance that Torra needs to "roundly" reject violence before talks can take place.
Later on in the evening, protesters in Barcelona headed down to the Catalan interior ministry calling for minister Miquel Buch, in charge of the Catalan Mossos police, to step down. Organized by the Committees for the Defense of the Republic, may participants came with balloons, some filled with paint.