Prosecutors request six years in prison for ex-minister for hiring security for Puigdemont
Miquel Buch is accused of appointing a police officer as a bodyguard for the exiled former president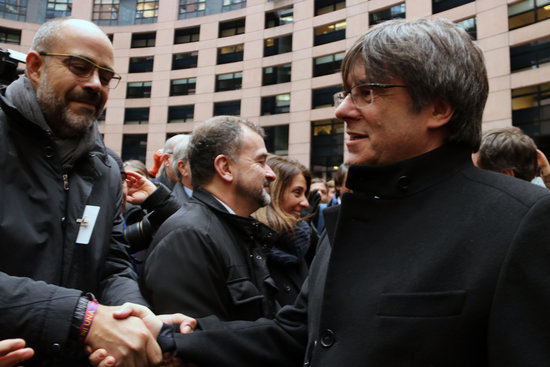 The public prosecutor has requested a six-year prison sentence for Catalonia's former interior minister Miquel Buch for allegedly hiring a police officer to be the security guard of Carles Puigdemont, the former Catalan president exiled in Belgium.
As the politician who once oversaw Catalonia's Mossos d'Esquadra police force, Buch is accused of fraudulently employing the agent Carles Escolà as an adviser when in reality he was serving as Puigdemont's bodyguard abroad.
Prosecutors also requested 4.5 years in prison for Escolà and the return of the €52,712 allegedly paid for his services.
Both Buch and Escolà are charged with breach of official duty and misuse of public funds, and each faces a proposed 10-year disqualification from public service and a €70,283 bail.
Appearing in Catalonia's high court (TSJC) a year ago, Buch denied any wrongdoing and said that he hired Escolà due to his technical skills, experience, and knowledge of the police — he added that he was unaware of Escolà's activities outside his working hours.
Puigdemont's exile
Puigdemont left Catalonia for Belgium in the fall of 2017, when his government's bid to separate from Spain following an unauthorized referendum was forcefully thwarted by Madrid.
With most of his former colleagues serving lengthy prison sentences for the crime of sedition, Puigdemont has repeatedly resisted Spain's attempts to extradite him alleging he will not face a fair trial.
Buch in the spotlight
As a fellow member of Puigdemont's Junts per Catalunya (JxCat) party, Buch was appointed as home affairs minister in the spring of 2018, when a new generation of pro-independence leaders filled the power vacuum left by their exiled and imprisoned colleagues.
Buch quickly became one of the most criticized figures in the Catalan executive. Reports of police violence against pro-independence protesters put him in the spotlight and eventually cost him the post last September, when he was replaced by Miquel Sàmper in a surprise cabinet reshuffle.