Home affairs minister denies enabling security service for Puigdemont abroad
Miquel Buch also under pressure for alleged racist police attack on young black man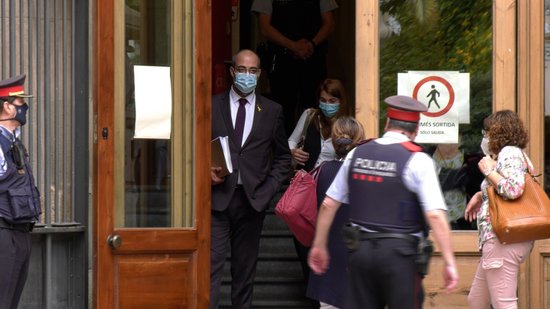 The Catalan home affairs minister, Miquel Buch, testified on Tuesday before Catalonia's high court (TSJC) to deny having collaborated or enabled a security service for former president Carles Puigdemont abroad.
In a three-hour hearing, Buch rejected hiring a Catalan police officer named Lluís Escolà to work as a guard for the exiled leader.
According to judicial sources, the home affairs minister argued that he hired Escolà because he had been told he had technical skills, experience, and knowledge of the police – he added that he was unaware of Escolà's activities outside his working hours.
Both the home affairs minister and Escolà, who will testify on Thursday, are accused of breach of official duty and misuse of public funds after the court admitted the suit filed by prosecutors acting at the request of Ciudadanos for the alleged crimes.
Magistrates will have to decide whether they take Buch and Escolà to trial.
Puigdemont's bodyguarding services
Escolà was appointed security adviser in July 2018 but resigned from the post in March 2019. The prosecutor's office claims that before, during, and after this period he acted as Puigdemont's escort despite there also being an arrest warrant for the former Catalan figurehead.
Ex-presidents are entitled to services of bodyguarding, but Spanish authorities must be notified when the service is planned to take place beyond Spain's borders.
Buch, under pressure over handling of alleged police racist attack
Also on Tuesday, several parties put pressure on Buch's ministry for the handling of the alleged racist attack by Catalan police against a young black man in central Catalonia in January 2019.
Esquerra Republicana, ally of Buch's Junts per Catalunya in government, urged for "structural measures" in the ministry to avoid similar cases in the future.
For the party, it is "unacceptable" that Buch's office did not take any action until the case came to light.
"The handling of racist, xenophobic, and violent behavior by officers requires a reflection that has to go beyond individual episodes," reads a statement.
The main opposition party in Catalonia, the unionist Ciudadanos, announced that they would request that Buch appear before parliament to give an explanation on the affair.