Proclamation of the Catalan Republic: 90 years on
Exhibitions, official events and criticism of the crown mark anniversary of the only democratic period prior to the current one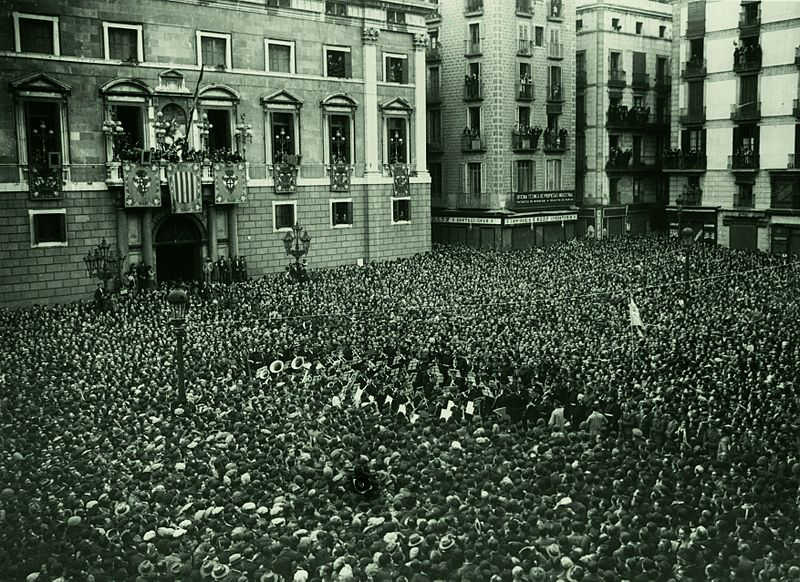 "Catalans: interpreting the feeling and hopes of the people, who have just granted us their vote, I proclaim the Catalan Republic, as a member state of the Iberian Federation." These words were pronounced on April 14, 1931 by Francesc Macià, a charismatic former lieutenant colonel who had gained popularity for attempting to oust Spanish dictator Miguel Primo de Rivera in 1926.
Macià declared the Republic on the balcony of the Palau de la Generalitat, the current Catalan government headquarters, two days after local elections in which republican parties won in most big cities across Spain.
On the very same day, the then-Spanish king and current king's great-grandfather, Alfonso XIII, fled the country, prompting several declarations such as Macià's that led to Spain's Second Republic.
Witnesses still remember
90 years later, there are still witnesses who remember this remarkable day in Catalonia.
"There was a burst of joy, people took to the streets to celebrate it in good spirits," Joan Escudé, a 105-year-old Spanish Civil War veteran, tells Catalan News.
"On April 15 a demonstration that I attended took place in order to release the jailed leaders in the Model prison, but the director of the penitentiary told us they had already been released," he recalls, insisting that the day's events in Barcelona were peaceful.
"Exactly 90 years ago I was at school, sewing. Three or four armed men came to replace the Spanish flag with a Republican flag," 101-year-old Dolors Martí Salom says.
"I loved Macià. He was a truly decent man. Sadly, he was gone too soon," she adds. Macià, known as l'Avi ('grandfather'), passed away on Christmas Day 1933.
The Republic: a new era of self-rule for Catalonia
It is no surprise that euphoria erupted amongst a population emerging from a military dictatorship that had suppressed basic rights and persecuted Catalan language and culture.
1931 meant the beginning of a new era in politics. "The anniversary of the Second Republic is the celebration of the only democratic period prior to the current one in the whole history of Spain," Jaume Claret, a historian at the Open University of Catalonia (UOC), explains to this media outlet.
"The fact that suddenly there was a certain degree of freedom was a relief," Escudé remembers.
On April 14, 1931, Macià proclaimed the Catalan republic within an Iberian Federation, but that never materialized under those terms. Although Spain's new authorities rejected creating a federation of states, they did grant Catalonia some of the self-rule it had not enjoyed in the years since 1714.
"Catalonia became a political entity. Until then we were four provinces, but Catalonia as an institution did not exist," says Claret.
Indeed, the new cabinet chaired by Macià was able to set up new policies aiming to create a more educated society: "Most forces that back the Republic believed that major tools for a change are education and culture, so a lot of funding is spent on both of them," Claret adds.
Agitated period
This period in time was very ambitious but also tumultuous: "For those leaning to the left, the Republic was too moderate. And for right-wingers, it was too radical. In fact, it was too moderate for both ends," Claret emphasizes. "There was a series of old structural problems regarding agriculture, the military, and territorial reforms, which they tried to tackle. But there were a lot of issues right after the crash of 1929."
Right-wingers came to power in the fall of 1933, putting a halt to some of these reforms and prompting unrest in several places which led to the proclamation of a Catalan state by president Lluís Companys, Macià's successor.
Companys and his entire cabinet were jailed until February 1936, when the left-wing bloc won Spain's general election and they were released.
Companys faced the fascist uprising in July 1936 and the Spanish Civil War as Catalonia's leader until general Francisco Franco prevailed in 1939 and the republic came to an end.
Events to mark the anniversary
Several events were held throughout Catalonia on Wednesday to commemorate the anniversary of this historic day.
The current interim government marked the day with an institutional event with acting president Pere Aragonès and justice minister Ester Capella.
Parliament speaker Laura Borràs also chaired another event in honor of the victims of Francoism that was attended by the president of the Associació pro Memòria als Immolats per la Llibertat a Catalunya, Pere Fortuny. According to Fortuny, Spain's latest bill on historical memory is not ambitious enough because it does not annul Francoist sentences and courts.
Barcelona's mayor, Ada Colau, also referred to the anniversary by saying that the current royal family has never been as unpopular as it is today and claimed that it is a matter of time before it falls again.
Other activities taking place this week include an exhibition called 'Tres dies d'abril. 90 anys de la proclamació de la República' in the gardens of Barcelona's Palau Robert.