Podemos formally requests pardon for rappers Pablo Hasel and Valtònyc
Around 70 cultural entities file similar initiative as the jailed musician sees additional prison sentence confirmed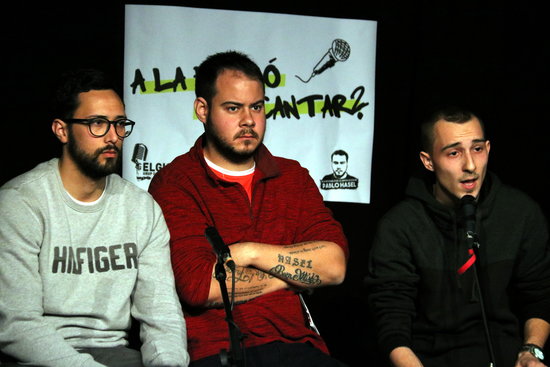 Podemos, in coalition with the Socialist Party in the Spanish government, has formally requested the pardon of the jailed and exiled rappers Pablo Hasel and Valtònyc.
The left-wing party officially brought the urgent pardon request to Spain's Ministry of justice just days after the incarceration of Hasel, while Valtònyc remains living in Belgium.
The request details that the rappers are "unjustly convicted of crimes that violate the right to freedom of expression, in accordance with human rights standards."
In addition, around 70 cultural entities have called for the pardon of Hasel in a rally organized by the Catalan Academy of Music.
In fact, the Academy has launched a pardon request from lawyer Jordi Palou, a mediator and consultant specializing in human rights.
The rally was supported by, among others, Òmnium Cultural, the Association of Dance Professionals of Catalonia, the Film Academy Català, the Association of Theater Companies of Catalonia (ADETCA), Women Visuals, Editors.cat and Federated Audiovisual Producers (PROA).
Additional sentence upheld
A Lleida court has upheld the 2.5-year prison sentence imposed on jailed rapper Pablo Hasel on March 5, 2020, which was given for having threatened the witness in the trial of a police officer for an alleged assault on a minor, in which the agent was acquitted.
Specifically, Hasel was sentenced to 1 year and 9 months in prison for obstruction of justice, and a further 9 months for threats. An appeal may still be filed.
If rejected, however, the sentence would be added to that of which he is already serving for two separate cases in which he was found guilty of the glorification of terrorism and slander to the crown and Spanish law enforcement, amounting to 2 years and 9 months, and also another year in prison for failing to pay the fines imposed in various sentences. In total, Hasel could spend around 6 and a half years in prison.
According to the sentence confirmed by the Lleida court, it has been proven that on October 16, 2012, Hasel wrote on social media that the Guardia Urbana officer "had bought a false witness to testify against a colleague who was brutally beaten," accompanied by a photograph of the witness.
Also according to the sentence, on October 18, 2017, Hasel addressed the witness, who was sitting in a cafe in the center of Lleida, and reproached him for his statement and tried to kick him, before telling him "I'll kill you, son of a bitch, I'll catch you."
Protests and unrest
After the rapper was detained at Lleida University on Tuesday morning, there have been protests descending into turmoil in various cities across Catalonia and Madrid as well.
Tuesday and Wednesday nights saw multiple arrests, injuries, and rubbish containers burned in Barcelona, Vic, Lleida, Tarragona, and Girona.
Further protests have already been called for Thursday night, as demonstrators continue to demand the immediate release of Pablo Hasel.