130 dumpsters and 9 vehicles burned, 33 arrested, 14 injured: figures from second night of riots
Protests against rapper's imprisonment in several cities as debate on police's use of foam bullets sparks up again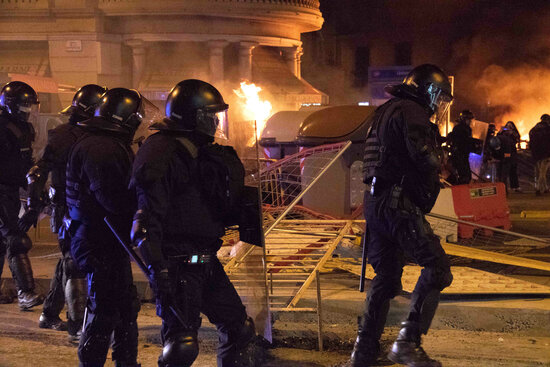 The second night of riots against rapper Pablo Hasel's imprisonment, taking place most notably in Barcelona, Girona and Lleida, resulted in 130 dumpsters and 9 vehicles being burned down, according to an evaluation shared by the Catalan police on Thursday morning.
Law enforcement also said that 33 arrests were made – 12 of which took place in Barcelona and 14 in Lleida. 14 more people were injured, including 8 police officers.
In Barcelona, groups of protesters broke into Hotel Mandarin Oriental and a car dealership and police had to prevent people from breaking into the stock market building. Around 80 dumpsters were burned down and 11 businesses were damaged.
In Lleida, Hasel's birthplace, 40 dumpsters were used as barricades and set fire. In Girona there were 11.
Some minor incidents were also reported in Tarragona, where two protesters were arrested.
On Thursday morning, the leadership team of the Catalan Mossos d'Esquadra police said that most demonstrators were peaceful and only a handful of them violent.
Its director general, Pere Ferrer, emphasized that law enforcement will not tolerate "the change from protest to violence."
The rallies also took place outside Catalonia: in Madrid, 10 people were arrested in an event to protest Hasel's detention in Puerta del Sol.
55 injured in first night of protests
Wednesday marked the second night of riots demanding Hasel's release. The rapper was arrested on Tuesday after being convicted to two years and nine months behind bars for two separate cases relating to the content of his songs and tweets – they were deemed to be "glorification of terrorism" as well as slandering the crown and Spanish law enforcement.
On Tuesday night, there were 18 arrests made by Mossos across the country, according to the latest update. That same night 25 officers of the Catalan and local police were injured and 30 more individuals were assisted by the medical emergency SEM services.
A person lost an eye during riot
A 19-year-old woman in Barcelona lost an eye during the disturbances on Tuesday. The Irídia Center, which defends civil and political rights and first reported the incident, said that the injury was caused by a foam bullet fired by law enforcement - 300 such bullets were used to disperse protesters on Tuesday and 120 more on Wednesday.
An image of the wounded girl with a bloodied face was spread on social media whilst the riots were going on.
Debate over use of foam bullets
Irídia said that "for years" the group has been campaigning against the use of foam bullets, expressing that they can be very dangerous and lead to serious injuries, "even death". They also believe that police leadership must put in place appropriate structures that enforce that there is no unwarranted use of foam bullets.
The Mossos d'Esquadra opened an investigation regarding the issue, which Irídia welcomed on Thursday. However, the organization has also called on all political parties to launch a parliamentary committee to analyze "in depth" how to evaluate, investigate and control riot police officers in order to avoid said casualties.
They also highlighted that it is illegal for the police to aim and fire foam bullets at a person's head, and that there have been at least three reports of this happening on Wednesday.
Irídia's spokesperson, Anaïs Franquesa, explained in a RAC1 station interview on Thursday the difference between a rubber and a foam bullet, including the material which it is made from. Foam bullets, unlike rubber bullets, however, do not bounce on the floor, therefore meaning that in order to cause such injuries, it would probably have to be fired directly at the person.