Philosopher and gender theorist Judith Butler receives 33rd Catalonia International Prize
President Pere Aragonès presents award to American writer and activist in Barcelona, praising their "revolutionary work"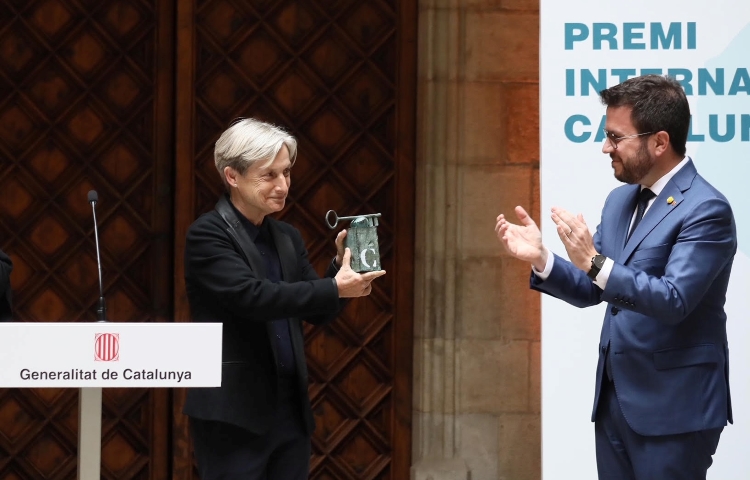 Catalan president Pere Aragonès awarded the 33rd Catalonia International Prize to the American philosopher and gender theorist Judith Butler in a ceremony at the Palau de la Generalitat in Barcelona on Wednesday evening.
Butler, known for their writings on the theory of gender performativity, said they were "most honored" to receive the award, but admitted it was "difficult to know if any one of us have done enough to bring about a better world."
In their speech at the seat of the Catalan government, Butler called for gender equality, an end to gender-based violence, and an end to discrimination against LGBTI people around the world, so that they can "move freely on the streets, without fear."
They warned that much more work remains to be done across the world, including the US and Europe, and also spoke of the dangers faced by women fleeing the war in Ukraine.
Aragonès: "Revolutionary work"
President Aragonès praised Butler's "revolutionary work" for helping to boost gender studies around the world and "destroy old ways of thinking."
"If we want to advance as a society, we have to recognize diversity and plurality and include everyone, as they are," he said.
After speaking in Catalan, the president addressed Butler in English, saying they were "an example of the country and the world we want to build."
"Thank you for your civil and social commitment, non-conformity and willingness to transform," he said.
"Unanimous agreement"
The head of the jury, Mary Ann Newman, highlighted Butler's open concept of gender, their philosophy and their experience, saying the prizewinner was chosen with "unamimous agreement" from members of the jury.
Marta Segarra i Montaner, a professor at the University of Barcelona, spoke of Butler's "immense" contribution to "scientific, philosophical, political and human" thought.
She also mentioned women who have won the award in previous years, including primatologist Jane Goodall, activist Malala Yousafzai, and Tijana Postic. Postic, who also spoke at the ceremony, is head nurse at Igualada Hospital and was one of four women to receive the 2020 prize for their work during the coronavirus pandemic.
Who is Judith Butler?
Butler, announced as the recipient of the 2021 prize in January this year, is one of the most important figures in gender studies internationally, and well known for the feminist philosophy they have been working on for years, in particular their theory of gender performativity.
In their essay "Gender Trouble: Feminism and the Subversion of Identity" Butler explains the improvised performance gender has. They believe that gender roles are social constructions, not natural concepts.
Butler considers themselves a non-binary person, meaning that they do not identify as male or female.
During the last number of years, the American philosopher has also taken intellectual and political action in conflicts such as the one between Israel and Palestine, the war in Iraq and the Occupy Wall Street movement, a peaceful anti-capitalist protest that began on September 17, 2011 with a sit-in in New York's financial district.
Butler was born in Cleveland in 1956. A professor in the Department of Comparative Literature and the Program of Critical Theory at the University of California, Berkeley, their books have been translated into more than twenty-seven languages.
Previous prizewinners: Malala, Tutu, Cousteau
The Catalonia International Prize has been awarded annually since 1989 to people who have contributed to developing cultural, scientific, and human values around the world through their creative work.
Former awardees include philosopher Karl Popper, oceanographer Jacques-Yves Cousteau, politician Václav Havel, writer Doris Lessing, and activist Malala Yousafzai.
South African Archbishop, Desmond Tutu, who passed away aged 90 in December, was awarded the prize in 2014. In his acceptance speech he urged for dialogue between Catalonia and Spain and for the Spanish government to allow Catalan residents to vote for their future.