South-African Archbishop Desmond Tutu, Nobel Peace Prize, and Catalonia International Prize winner, dies at 90
Tutu also received the Catalan parliament's Medal of Honor in 2000 to recognize his fight against the Apartheid regime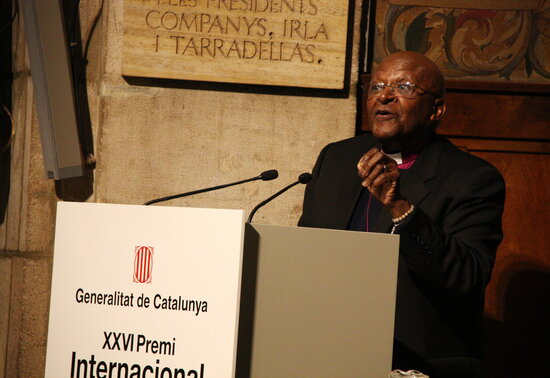 South-African Archbishop, Desmond Tutu, has passed away at the age of 90 on Sunday, December 26, according to Reuters news agency. Nobel Peace Prize laureate since 1984 for his non-violent opposition to apartheid.
In 2014, Archbishop Tutu was awarded Catalonia's International Prize. During his acceptance speech, he urged the Spanish government for dialogue between Catalonia and Spain and to allow Catalan residents to vote for their future, , regarding 2014's 9N referendum.
"Parties should debate how to achieve self-determination," Archbishop Desmond Tutu said on June 3, 2014, in the Catalan government HQ, while receiving his award for his fight against the Apartheid regime.
Fourteen years earlier, in 2000, the Catalan parliament awarded the South-African Archbishop with the Medal of Honor.
After Tutu's death, "it is another chapter of grief in our nation's farewell to a generation of South Africans who left us a liberated South Africa," said South African president Cyril Ramaphosa.
In the late 1990s, Desmond Tutu was diagnosed with prostate cancer and had been hospitalized in recent years to treat infections associated with his treatment.
Catalonia International Prize
This is the most prestigious prize given by the Catalan Government and follows the decision of an independent jury formed of high-profile professionals from Catalonia and abroad.
The jury chose Archbishop Tutu from 162 other names from 51 different countries for "his vigorous and constant fight for social justice and the improvement of living conditions of those oppressed," announced the Catalan government at the time.