Open Arms calls for safe harbor to disembark 363 rescued migrants
Fifth rescue in 72 hours see Catalan NGO pick up another hundred people stranded in Mediterranean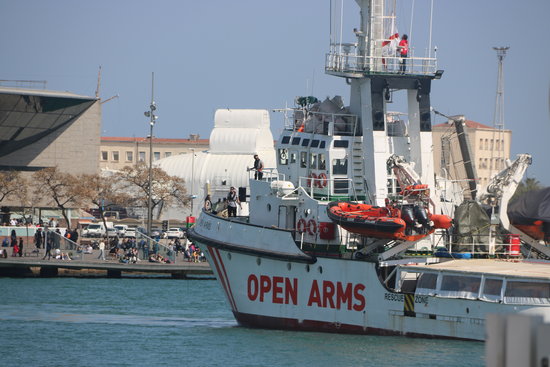 Catalan NGO Open Arms is requesting a safe harbor to disembark the 363 people it has rescued from the Mediterranean in the last 72 hours.
On Thursday night, the Open Arms ship carried out its fifth rescue operation, adding another hundred stranded migrants to those already on board.
"After the fifth rescue last night and two previous evacuations, we have 363 survivors on board, we need a safe harbor to disembark as soon as possible," said the NGO on Twitter.
The latest influx of rescued migrants, who are fleeing the conflict in Libya, were found stranded at sea in an unsafe covered wooden boat.
Earlier on Thursday, Open Arms rescued 45 people in the central Mediterranean, which took the number on board the ship to 282.
Rescues began on Tuesday
The NGO began picking up stranded migrants on Tuesday, initially rescuing 56 people from a damaged boat with engine problems.
That number quickly rose to 158 people, and then 237, as Open Arms continued to rescue people it said had been saved "from probable death".
After rescuing the 45 people on Thursday, the NGO tweeted that they were in "poor physical condition" and included "wounded" and "a five-year-old boy."
Before that, the NGO reported that there are 500 more people on board other rescue ships, the Ocean Viking and Alan Kurdi, which also need safe harbor.
Summer Salvini saga
In November, Italy offered a safe port to the Open Arms ship after it saved 73 migrants shipwrecked in the western Mediterranean.
That followed a months-long back and forth in summer 2019 when former Italian interior minister Matteo Salvini refused permission for Open Arms to dock in Italy.
After some 19 days stranded in the Mediterranean with over 160 migrants on board, the Open Arms rescue ship was eventually allowed to dock in the Italian port of Lampedusa.