Northern Catalonia: a strip north of the Pyrenees with a Catalan soul
Region shares language and culture with southern neighbors and played key role in 2017 referendum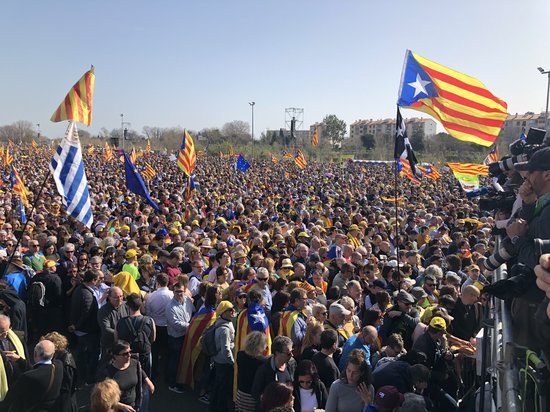 Located just north of the Catalan Pyrenees, Northern Catalonia, now in France, shares a language and culture with its southern neighbors. It has a Catalan soul after being administratively part of Catalonia until the 17th century.
Northern Catalonia is nowadays the département of the Pyrénées-Orientales in France, which has a population of 481,691.
Of these, 52,829 can write in the Catalan language, according to a survey published by the Catalan government in 2015.
Many more people, 225,445, can understand it, the research found, after interviewing 1,760 people.
Eight years ago, 47,115 inhabitants used Catalan as their main language, representing 12.7% of the population.
Key treaty that changed Catalonia's borders in 1659
The use of Catalan dates back centuries, as the area was part of Catalonia until the modern era. Spain signed the Treaty of the Pyrenees in 1659, ceding Northern Catalonia to France, thus putting an end to the Thirty Years' War.
Moving forward over 350 years, Northern Catalonia was crucial for the 2017 independence referendum.
The municipality of Elna (Elne in French) was where six million ballot papers and thousands of ballot boxes made their way south, making the October 1 referendum possible. A clandestine network was established as a way of avoiding police controls so voting material could cross the Spanish border.
In fact, the relationship between Northern Catalonia and Catalan authorities is so strong, that in 2020, former Catalan president Carles Puigdemont was welcomed to Perpignan by the mayor himself. The meeting coincided with a massive pro-independence rally in the city.
Rugby team playing in Catalonia's colors
But Catalonia does not only share history and language with this part of France.
Shared heritage between southern and northern Catalans includes the Sardana folk dance and rugby.
The USAP rugby union team in Perpignan, whose colors are those of the Catalan flag and whose anthem is 'L'estaca,' by Catalan singer Lluís Llach, and the Catalans Dragons rugby league team have supporters on both sides of the Pyrenees.
Far-right
While there are many things Catalonia shares with its northern neighbor, there is one big political difference.
Currently, Perpignan, the capital of the départment, is governed by mayor Louis Aliot, from the Rassemblement National (National Rally), the far-right party led by Marine Le Pen.
Le Pen, who ran for the 2022 presidential election in France, won in Northern Catalonia against French president Emmanuel Macron, who is visiting Barcelona on Thursday.