MEP Puigdemont and President Torra greeted by Perpignan mayor
"The two Catalonias have reencountered," says current head of government in French Catalonia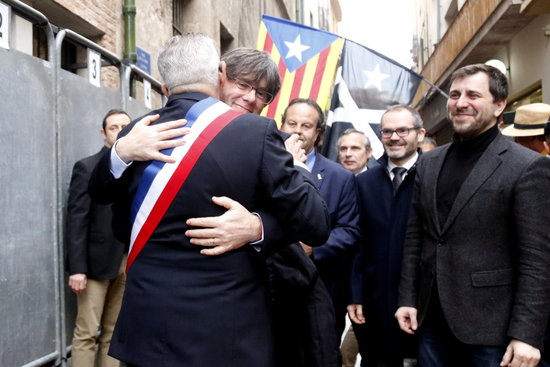 The former Catalan president, Carles Puigdemont, and his successor, Quim Torra, were greeted in Perpignan city council by its mayor, Jean-Marc Pujol, on Saturday morning.
Exiled leader Puigdemont, now MEP, will feature in a thousand-strong political event in the capital of the so-called French Catalonia or Northern Catalonia, an area belonging to Catalonia until 1659, when Spain ceded it to France.
Earlier in the morning, Puigdemont visited the city council, signed its book of honor, met its mayor and sang the Catalan national anthem outside the building, along with Torra, Pujol and other officials.
During the event, the top authority of Catalonia during the 2017 referendum thanked the Perpignan authorities for welcoming them: "Thanks to you and your empathy and solidarity in these difficult moments we know there is light."