Man detained in Barcelona shooting investigation
Police say suspect who fired shots injuring two is still at large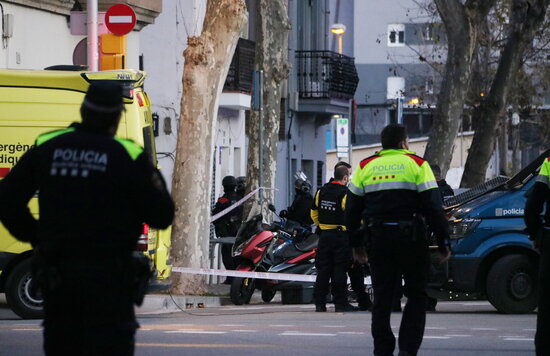 The Catalan police – the Mossos d'Esquadra – have arrested a man on Sunday in connection with a shooting in which two people were injured in the Sant Martí area of Barcelona on Saturday.
According to police sources, the man detained is not thought to be the perpetrator who fired the shots in Saturday's attack, but is allegedly related to the incident.
The search for the main suspect is ongoing. On Saturday police raided a flat where they believed the suspect was hiding but found nobody present.
They had cordoned off an area between Carrer Maresme and Carrer Pere IV after a tip-off, but the supposed hideout was empty.
The two people who were shot and wounded in the attack were taken to hospital, but their injuries are not life-threatening.
Marijuana trafficking
Authorities suspect that the shooting could be related to marijuana trafficking. Interior minister Joan Ignasi Elena told RAC1 radio Monday that police discovered a cannabis farm in the flat raided on Sunday and are therefore working on this hypothesis.
Elena expressed concern over the rise in marijuana-related crime, adding it goes beyond trafficking, also involving illegal work, robbery and inter-group violence.